Bristol's favourite maze of stalls and pop-up restaurants has revealed a jam-packed schedule of summer busking events for 2023. Launching on Saturday 20 May, St Nicks will have local musicians from the Bristol Institute of Music Management (BIMM) performing for visitors as part of a summer series that delightfully intertwines shopping, eating and music. The acoustic sessions will fill the market with covers and original material on Saturdays throughout summer, including 20 May, 24 June, 29 July and 26 August. The event is free and no tickets or booking is required.
In amongst the quirky stalls, street food and historic architecture in the heart of the Old City, visitors can listen to acoustic sessions from Bristol talent whilst exploring the abundance of independent traders in The Covered Market and The Exchange Hall of St Nick's Market. Home to a variety of self-contained businesses, The Covered Market includes books, sweets, records and gifts whilst The Exchange Hall houses an eclectic array of stalls from handmade jewellery to hot (and we mean hot!) sauce.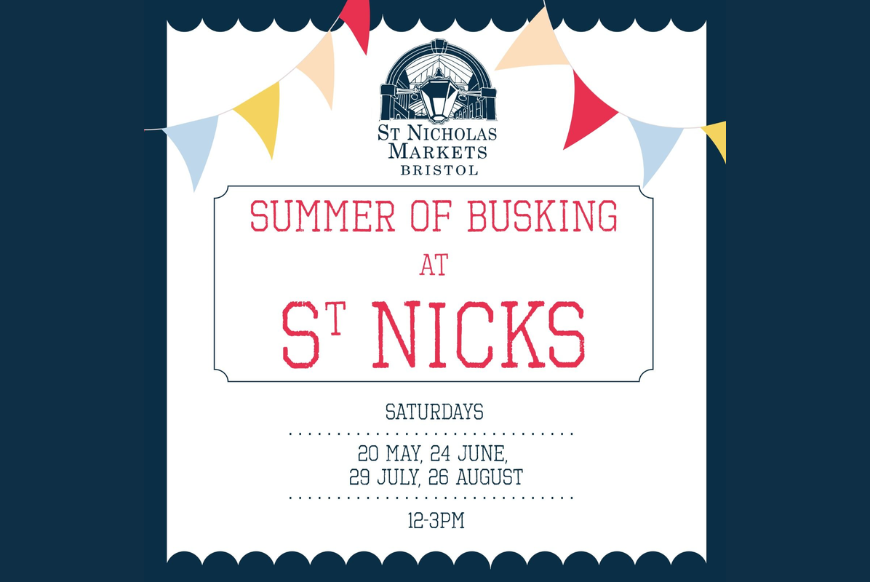 Councillor Craig Cheney, Deputy Mayor and Cabinet Member for Finance, Governance, Property and Culture, said: "We're thrilled to have such talented BIMM musicians performing at St Nick's Market. Over four Saturdays this summer we will host a different set of local acoustic musicians outside the Covered Market, helping to raise awareness of the market, encouraging people to visit and for people to enjoy as they dine alfresco. With the largest collection of independent retailers in Bristol, there's no better time to explore St Nick's."
A range of useful everyday services are also available in The Covered Market. This includes key cutting, clothing alterations and shoe repairs. Known for its incredible offering, Bristol foodies can feast on varied dishes from the Glass Arcade chefs. With mouth-watering options from cafes and top-quality street food, shoppers can delve into dishes from around the world whilst listening to different BIMM musicians each month.
As Bristol's largest collection of independent retailers, St Nicholas Market (fondly known as St Nick's) has become a much-loved Bristol landmark for both locals and tourists. The market, which has been trading on Corn Street since 1743, will welcome Bristol's best up-and-coming talent to enjoy alongside the city's favourite pastimes: eating the finest food and supporting independent businesses.
For more information about the free event, please visit: https://www.bristol.gov.uk/st-nicholas-markets or follow St Nicks on Instagram @stnicksmarket
Related
0 Comments