The annual Scare Awards were held at ScareCON on Tuesday 10 May at Thorpe Park.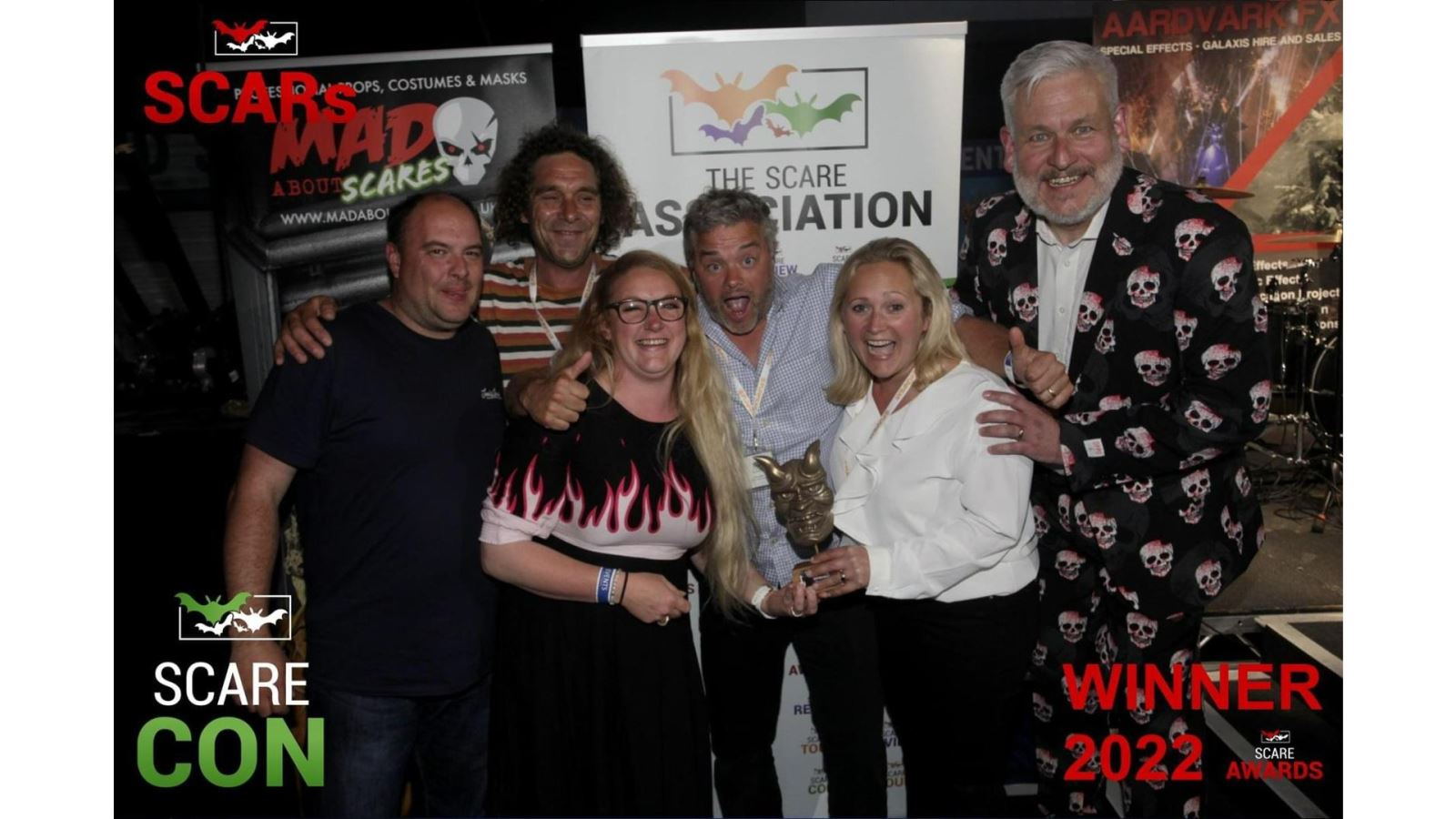 ScareCON is Europe's only trade show for the scare attraction and horror industry, attended by the biggest names in scare attraction entertainment. FEAR Avon Valley Scream Park was nominated in 5 categories; Best Set & Design, Best Costume & Makeup and Best Experience for 'Malefica' which was the park's new attraction for 2021; Best Entertainment - Stage and Fire Shows at FEAR Avon Valley Scream Park and the prestigious 'Best Scream Park UK'. Up against industry giants such as Thorpe Park, Alton Towers & Tulleys Shocktoberfest, FEAR Avon Valley Scream Park won Best Experience for 'Malefica' and Best Scream Park UK. FEAR had previously won 'Best Scream Park' in 2019 when it was nominated in 3 categories.
FEAR Avon Valley Scream Park had 20,000 visitors in 2021 and employed over 150 local people. The event was unable to run in 2020 due to Covid and there was great
uncertainty whether it could run in 2021. As one of a handful of scare attractions in the
South West this really puts the area on the map and with growth expected the event is
increasing tourism in the area as people travel for new world class experiences. The
scare industry in the UK is growing year on year and is still minute in comparison to the industry giants in the states but it is becoming appetising as a 'bloody good night out' for visitors looking for a fun experience and halloween festival.
Park Owner Doug Douglas says "We were totally blown away by winning this award, especially when you consider the huge amount of resources that Thorpe Park and Alton Towers can throw at their events! This was really a David vs Goliath battle and we won! I want Bristol and Bath to become THE Halloween destination of the UK and this has put us on the map!"
FEAR at Avon Valley Scream Park launches its most exciting season yet in 2022,
with an epic thirteen nights of frights.
Dates - October 7, 8, 14, 15, 21, 22, 25, 26, 27, 28, 29, 30 &
31.
The event features 5 Scare Attractions; X4, VITA NOVA, Malefica, and House of Clowns, and a new yet to be named attraction, but be warned, it's our most ambitious attraction yet!
If that wasn't enough, launching exclusively this year is a scare experience like no other.
It's time to witness the suffering of Evelyn Grace and face the demon within, as you
participate in The Exorcism. Tickets to this unique experience are limited, so avoid
disappointment and book your place now.
Returning once more is our infamous fire show, thrilling funfair rides, and our iconic
street entertainment, making sure that nowhere is safe.
FEAR Avon Valley Scream Park is a 16+ event.
NEW EVENT - FEARless
Launching on October 23, for one night only, is a brand new event... Introducing,
FEARless!
Aimed at 11-15 year olds, and those of a more nervous disposition, FEARless offers a
frightfully fun time, as you navigate our attractions on your own terms.
2021 reactions
'Best Halloween Event 2021' - Thrill Nation
'Truly horrific... the must-visit horror event in the UK.' - Cupcakes and Coasters
'Malefica: The UK's Best Scare Attraction' - Scare Track
'One of the maddest attractions that I've ever done.' - Jack Silkstone
'A stand out event'... Superb.' - Scare Directory
Related
0 Comments