The Big Jubilee Lunch will take place on College Green on Sunday 5th June to celebrate HM The Queen's Platinum Jubilee, with many of the city's institutions joining forces to create a day of royally fun activities for all the family.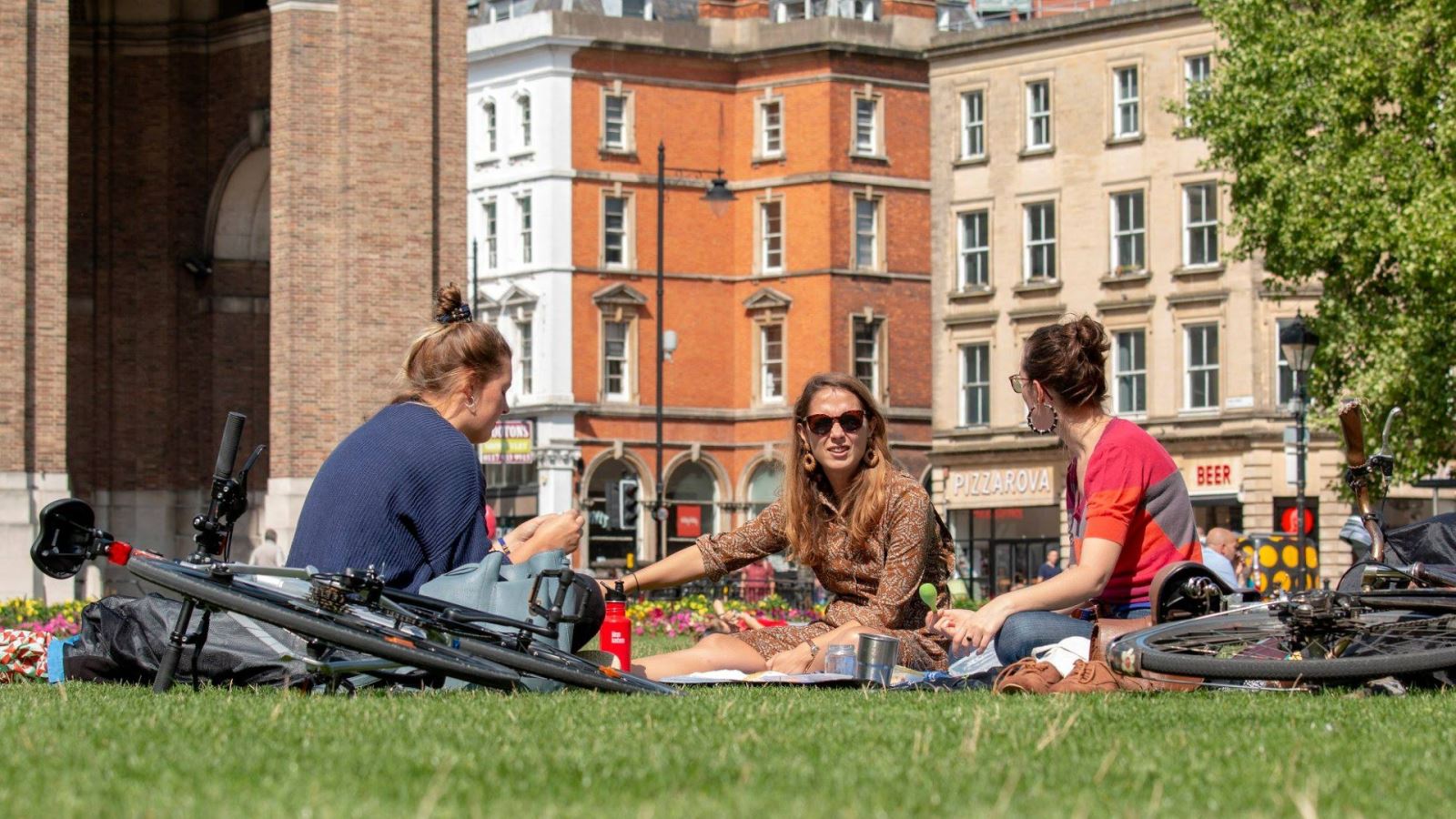 Bristolians are invited to join communities from across Bristol for a Sunday full of food and festivities in the heart of the city, as part of the full day free-to-attend celebration of Queen Elizabeth II's 70 year reign. Starting at 10.30am with Bristol Cathedral's ever-popular Sunday morning service - only this time on College Green! - there's a jam-packed schedule of activities fit for a queen right the way through until 6.30pm.
St George's Bristol has programmed a not-to-be-missed music stage featuring local legends Lady Nade, Phil King, Freddie Lewis, City of Bristol Brass Band, Kitty Stewart and Samantha Lindo.
Arts and crafts will be in abundance as Bristol Cathedral invites guests to create a Queen's Guard or Pentecost Flame, The New Room will showcase 18th century costumes from its archives as well as invite The Big Jubilee Lunch guests to try out quill pen writing. We The Curious will bring their popular Scribble Bots activity to the day and Young Bristol will be challenging attendees in giant games on board its mobile youth bus.
Children will be invited to do some nature spotting with Your Park, make their very own crown with Bristol Libraries, explore clay modelling with Voscus, plant vegetable seeds with Diabetes UK and get their faces painted with Save Soil, amongst a host of other activities. Performers will also transform into Palace Mice to provide Jubilee-inspired delight to guests old and young at heart.
From 2pm, the Avon Fire and Rescue Service will bring along a fire truck to show families more about their work in the city while College Green will feature all the fun of a traditional fair. Think tin can alley, hook a duck, giant jenga, rubber archery and the game that no funfair would be complete without, a coconut shy!
A part of The Jubilee Big Lunch event, sustainable pie makers, PieMinister, will give away 500 of their award-winning pies including some vegan options in the afternoon, on a first come first served basis. Nearby businesses on Park Street and Queen's Road will be open and welcoming guests so for those passing en route to or from the festivities, there's plenty of options for a spot of retail therapy or takeaway food.
More information about this event can be found at bristol-cathedral.co.uk/whats-on/jubilee
Peaches Golding OBE, Lord-Lieutenant of the City and County of Bristol said:
"The Queen's Platinum Jubilee is a once in a lifetime opportunity for everyone to thank Her Majesty for her 70 years of committed service to the country and Commonwealth. Nationally, The Big Jubilee Lunch is one of the keynote events providing a time to build and increase bonds across our diverse communities. Whether you celebrate at a street party, with friends in your garden, at a neighbourhood location near you or join us at College Green, The Big Lunch will bring together millions of people worldwide for a truly memorable and remarkable event."
The Very Revd Dr Mandy Ford, Dean of Bristol said: "We are delighted to be hosting an event for communities across Bristol on College Green and look forward to a day making new friends and welcoming old ones as we mark this historic occasion."
Peter Stewart, Executive Director of the Eden Project who are behind the Big Lunch said: "The Big Lunch has been bringing neighbours and communities together to share friendship, food and fun on the first weekend in June for well over a decade. We're delighted that Bristol Cathedral are holding The Big Jubilee Lunch so that the whole community can celebrate The Queen's Platinum Jubilee together and that they are raising money for such good causes too. Everyone everywhere can join in The Big Jubilee Lunch where they live from 2-5 June – now is the time to gather your neighbours, rally your road and get ready to celebrate this historic moment!"
Find out more at thebigjubileelunch.com
Related
0 Comments