River Town returns for the first time in three years for a summer programme of world-class roots and country music. Presented by Bristol Beacon, River Town brings an unparalleled programme of blues, gospel, country and bluegrass, from across the pond and closer to home, performed by global icons and rising names. Crowds can expect barn-storming live Americana music this summer.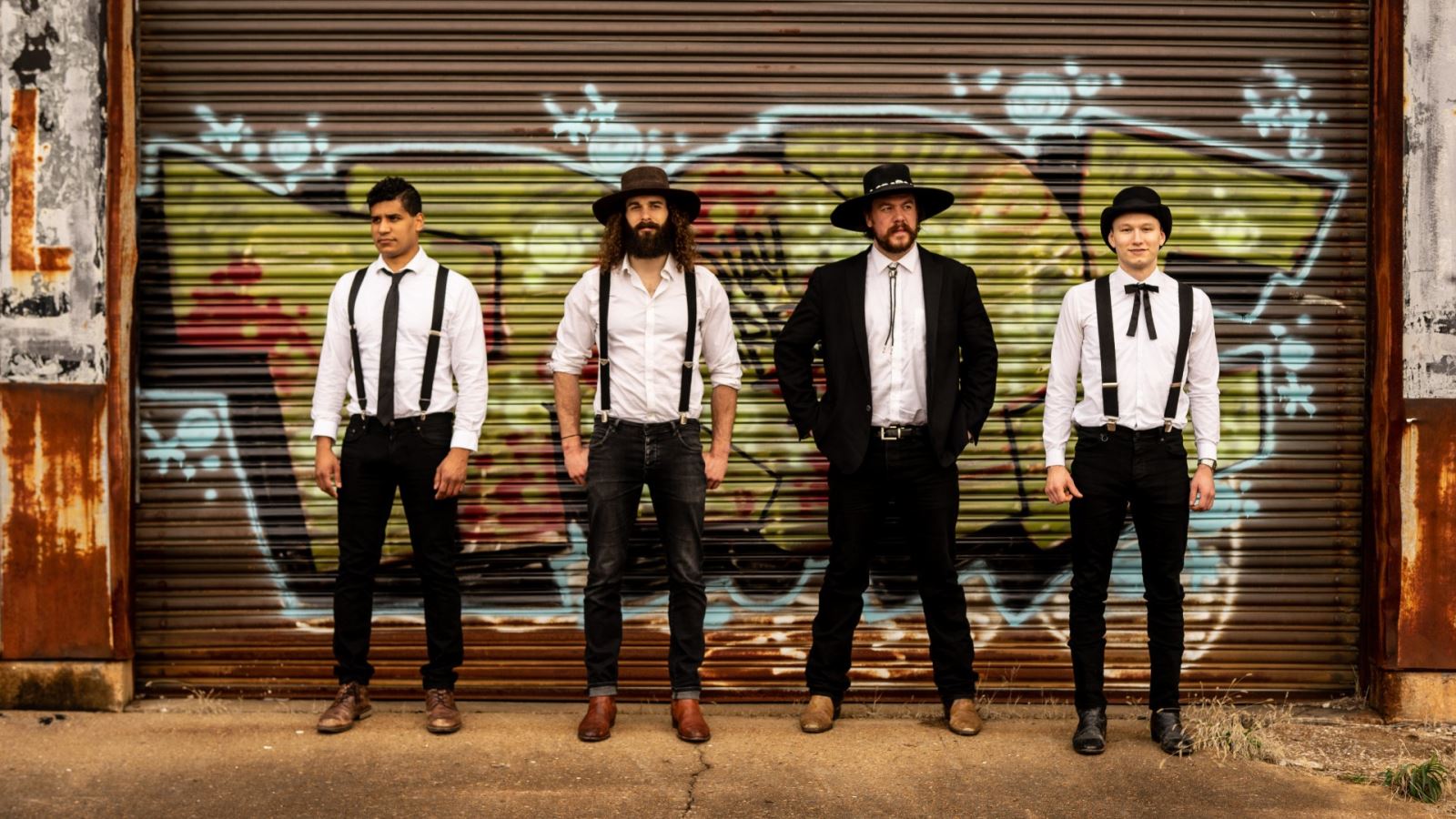 Image: The Dead South.
With more than 20 musicians from the Americana scene, including big names such as Richard Hawley, Judy Collins, Martha Wainwright, Adia Victoria and Lee Fields, River Town brings the sounds of the Deep South to the Southwest.
Todd Wills, Bristol Beacon's Artistic Director, said of the series: "We're excited to bring back River Town for 2022, taking place at a range of venues in Bristol and Bath. This year audiences can enjoy established country and roots acts as well as names less familiar to us in the UK."
River Town Events 2022:
Saturday 11 June - Amy Helm, The Louisiana
Having started out in her father's group, Levon Helm's Midnight Ramble Band, the singer, songwriter and multi-instrumentalist has forged a strong solo career with her resonant, accomplished vocals taking centre stage.
Monday 13 June - The War and Treaty, Thekla
With their eclectic fusion of gospel, Southern soul, country, and rock-and-roll The War and Treaty exude an infectious exuberance. The married duo harness an emotive humanity within their songs and their loyal fanbase, affectionately nicknamed 'Hearts Town', is testament to their dynamic, joyful craft. Having shared stages with the likes of Al Green, Brandi Carlile, and Jason Isbell, The War and Treaty's live shows are renowned for the potent, irresistible energy that the duo brings.
Tuesday 14 June – Hiss Golden Messenger + Bobby Lee, Fiddlers
The musical moniker of M.C. Taylor, Hiss Golden Messenger's sound blends American folk and country traditions with rich soulful intonations. With a prolific output over the past half-decade, last year Taylor released his latest album Quietly Blowing It.
Wednesday 15 June – Yasmin Williams and Gwenifer Raymond, The Wardrobe Theatre
Yasmin Williams and Gwenifer Raymond are both subverting the predominantly white male canon of solo guitarists. Williams employs a striking range of techniques, from evocative fingerpicking guitar to using every limb: one hand on the fretboard, the other plucking a kalimba whilst her feet keep rhythm in tap shoes. Raymond's journey started in punk outfits in the Welsh Valleys she grew up in before she delved into Appalachian folk, pre-war blues and American Primitive guitar players.
Sunday 19 June – Mama's Broke plus Fritillaries, The Wardrobe Theatre
Formed by multi-instrumentalists Amy Lou and Lisa Maria, the duo draw on their Canadian roots whilst channelling a nomadic transience. Via vocal harmonies and employing fiddle, banjo, mandolin and guitar, Mama's Broke evoke sound-worlds that are strikingly dark and haunting.
Tuesday 21 June – Adia Victoria, The Wardrobe Theatre
Adia Victoria is a daughter of America's South, a born and bred South Carolinian who now lives in Nashville, Tennessee. It is no surprise, then, that stories of the South find their way into her music, into the lyrics she pens and the chords she plays.
Tuesday 21 June – Lee Fields, The Fleece
The North Carolina musician cut his teeth as a teenager on the stages of juke bars in the 1960s, was a close collaborator and friend to Sharon Jones and Charles Bradley, and now, in his sixties, he's at the helm of the soul revival. Fields' latest album, created with his long-time band The Expressions, It Rains Love is his seventh.
Friday 24 June – The Dead South, Marble Factory
Hailing from the Canadian prairies of Saskatchewan, The Dead South have earned a strong reputation for their high-energy bluegrass and neo-folk concoction. Since the release of their debut album Good Company in 2014 the quartet, helmed by singer Nate Hilts, has continued to hone their impactful sound that draws on everything from punk to classical delivered with a vivid, lilting dynamism.
Wednesday 29 June – Judy Collins, Redgrave Theatre
Judy Collins is an indisputable musical treasure. With her narrative lyricism and astute musicality, Collins has spent over 50 years carving out a unique legacy. Her landmark 1967 release Wildflowers featured both her originals alongside compositions by Joni Mitchell and Leonard Cohen, the latter of whom prompted Collins to start making music in the first place. Her 29th album Spellbound continues to expand Collins' creative horizons, comprising a work of modern folk excellence.
Friday 1 July – Hannah Williams and the Affirmations, Fiddlers
Bristol-based band Hannah Williams and the Affirmations are well-renowned across the global soul scene for their retro-inspired sound. Their music has been sampled by Jay Z, garnered praise from the likes of Will.i.am and Tyler the Creator, and seen them play prestigious events worldwide, including Blue Note Tokyo and Montreal Jazz Festival.
Wednesday 6 July – Richard Hawley, Bath Forum
Richard Hawley has carved out a distinct and deserved legacy within rock-and-roll. His accolades are wide-ranging and impressive from being Pulp's guitarist to collaborations with Arctic Monkeys, Paul Weller, and Elbow, as well as playing with the likes of Robbie Williams and All Saints. Alongside this, the Sheffield-based musician has also spent over two decades forging a singular solo career.
Thursday 28 July – Martha Wainwright + Roseanne Reid, Redgrave Theatre
Martha Wainwright's song writing has always carried a raw depth and uncompromising defiance. Whilst this essence to her artistry is still omnipresent on her fifth record, Love Will Be Reborn, the album also sees her delve into new reflections and perspectives.
Friday 29 July – St Paul and the Broken Bones, O2 Academy
Alabama eight-piece St Paul & The Broken Bones pack a soulful punch with their sound.
Blending gospel, R&B, rock'n'roll, funk and psychedelia, the band's latest release The Alien Coast reflects the times with its narratives.
Yet whilst frontman Paul Janeway's lyrics meditate on dystopian realities and the record offers a pensive fever dream, the group still captures a psychedelic radiance in the music.
Monday 1 August – Dustbowl Revival, Redgrave Theatre
An ever-evolving group of string and brass players, Dustbowl Revival consistently pushes the boundaries of American roots music. Led by founding members Z. Lupetin, Josh Heffernan and Ulf Bjorlin, the outfit emanates a joyous revelry in their craft making for buoyant live shows.
Tickets are on sale now: https://bristolbeacon.org/whats-on/river-town-2022/
Related
0 Comments