International Coverage
Libelle (print edition 27 October) – Netherlands (Dutch women's weekly glossy title)
Reach – not known
Beautiful Bath – Generic 8-page feature on Bath, featuring key attractions and Bridgerton, plus some surrounding area including Somerset, Bradford-on-Avon and Bristol. Visit West assisted with information for content, and images. Members featured: Roman Baths, Thermae Bath Spa, The Abbey Deli, No. 1 Royal Crescent, The Bridge Tea Rooms – Bradford on Avon, Fashion Museum, Bath Priory Hotel & Spa, Holburne Museum, Sally Lunns.
National Coverage
BBC Music Magazine – November print edition
Reach – 37k print circulation
Musical Destinations – Bath, England.
A press trip was organised for the writer to come to Bath, along with interviews with Bath Mozart Festival and Bath Festivals. Members featured: Thermae Bath Spa, Hotel Indigo, Royal Crescent Hotel & Spa, Assembly Rooms, Holburne Museum, Bath Abbey.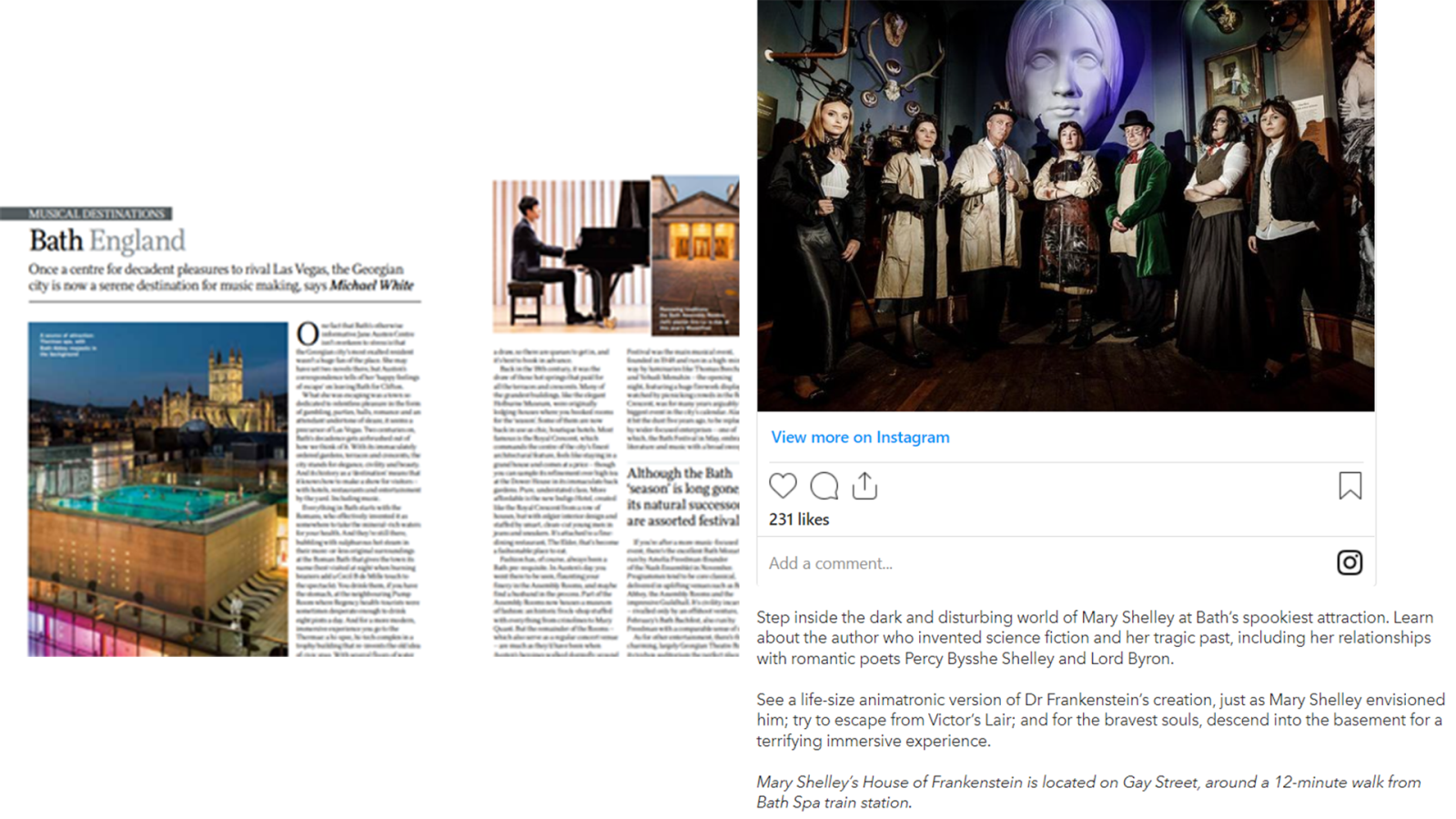 Image: Coverage in BBC Music Magazine and SoGlos
Regional Coverage
So Glos – regional digital publication 14.10.21
Reach – not known
10 of the spookiest places to visit by train from Gloucestershire - Gloucestershire film & culture - SoGlos
Mary Shelley's House of Frankenstein featured in a round-up of spookiest places to visit from Gloucestershire.
Metro – Southwest print edition 22.10.21
Reach – not known
Mary Shelley's House of Frankenstein featured in a round-up of top things to do for Halloween.
Somerset Life – October issue
Reach – 30k
Visit West wrote copy for a feature on the top 10 things to do in Bath this Autumn. Members featured: Jane Austen Centre, Thermae Bath Spa, No. 1 Royal Crescent, Savouring Bath, The Moorfields, Bath Adventurer City Tour, Bath Abbey, World Heritage Centre, Roseate Villa, No. 15 by Guesthouse, The Holburne Museum.
Great West Way Magazine – Autumn issue
Reach – not known
News piece on second UNESCO World Heritage inscription for Bath and Mary Shelley's House of Frankenstein.
Broadcast
BBC Radio Somerset – 13.10.21
Reach – not known
Kathryn Davis was interviewed on screen tourism in Bath following the filming of WONKA in the city.
Influencers
A press trip for food blogger and influencer Binnys Food and Travel was organised during The Great Bath Feast. Members featured: Abbey Hotel, Bath Abbey, Sally Lunns, Savouring Bath, Abbey Deli.
Reach – 18k
24 Hours in the City of Bath, a Charming Georgian Gem (binnysfoodandtravel.com)
Press tickets were organised for travel blogger The Travel Locker. Members featured included The Holburne Museum, Bath Abbey.
Bath – A walk through History – The Travel Locker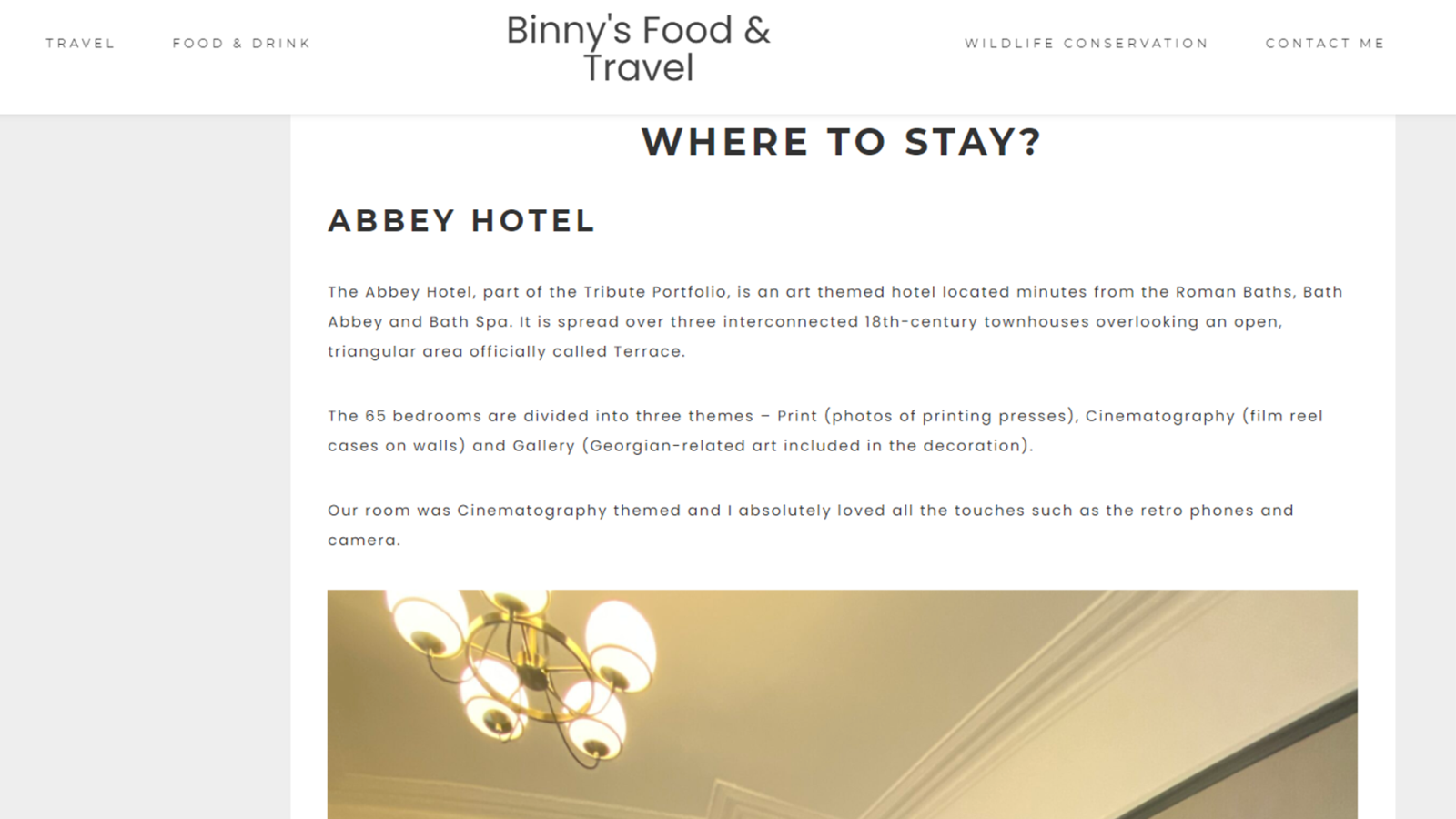 Image: Binny's Food & Travel
Local coverage
A press release was issued on the Tourism Minister's visit to Bath resulting in a piece on local website Bath Newseum.
Tourist Minister on tour – BATH NEWSEUM
Other coverage
The 10 most incredible places to visit in England – and where to stay (telegraph.co.uk)
Press releases issued:
• Tourism Minister visits Bath
Visit Britain PR Connect - Visit West hosted 2 webinars in partership with Visit Britain to showcase Bath's 2022 news to the global press offices.
Related
0 Comments