Earlier this year Martin Parr was recognised in the Queen's 2021 birthday honours with a CBE for services to photography. Alongside his practice as a photographer, curator, editor and educator, the CBE was awarded for Martin's dedication over the past 40 years to discovering and promoting the work of others.
Creating Parrworld, editing The Photobook: A History volumes 1, 2 and 3 in collaboration with Gerry Badger, Tate's acquisition of Martin Parr's photobook collection, as well as establishing Martin Parr Foundation, have all contributed towards this.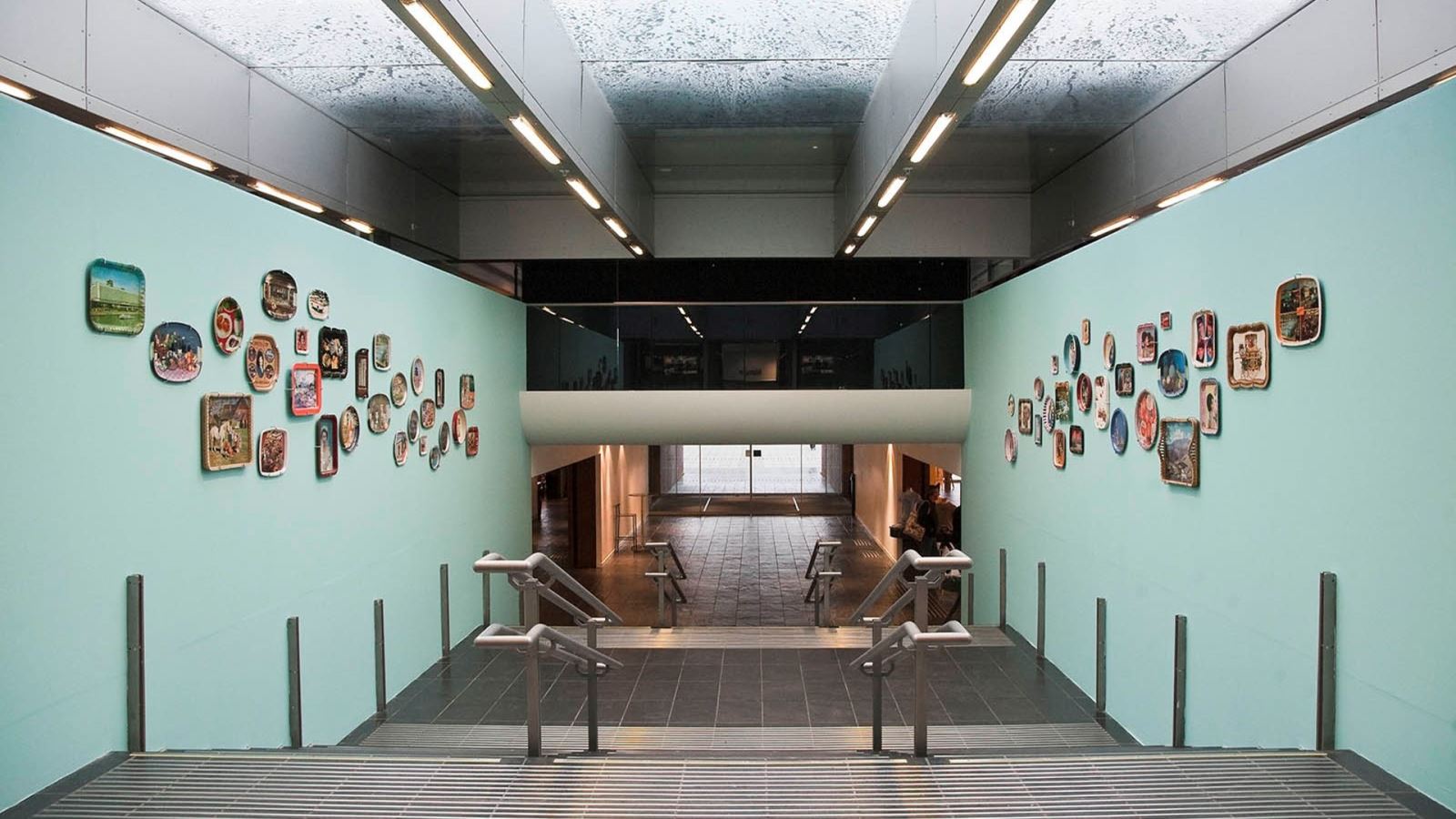 Image: Parrworld, on display at The Baltic, Newcastle, 2009
Parrworld
Created in 2009, Parrworld is a touring exhibition showcasing the work of photographers that have been marginalised or misrepresented, alongside the work of Martin Parr and ephemera that Martin has collected. Objects collected range from miners' strike ephemera, Soviet Sputniks and Thatcher ephemera, to Spice Girls ephemera and more recently, Obama ephemera, largely because of their prominence in the media and association with strong visual imagery.
The exhibition was first shown in The Batlic in Newcastle and has since toured Europe.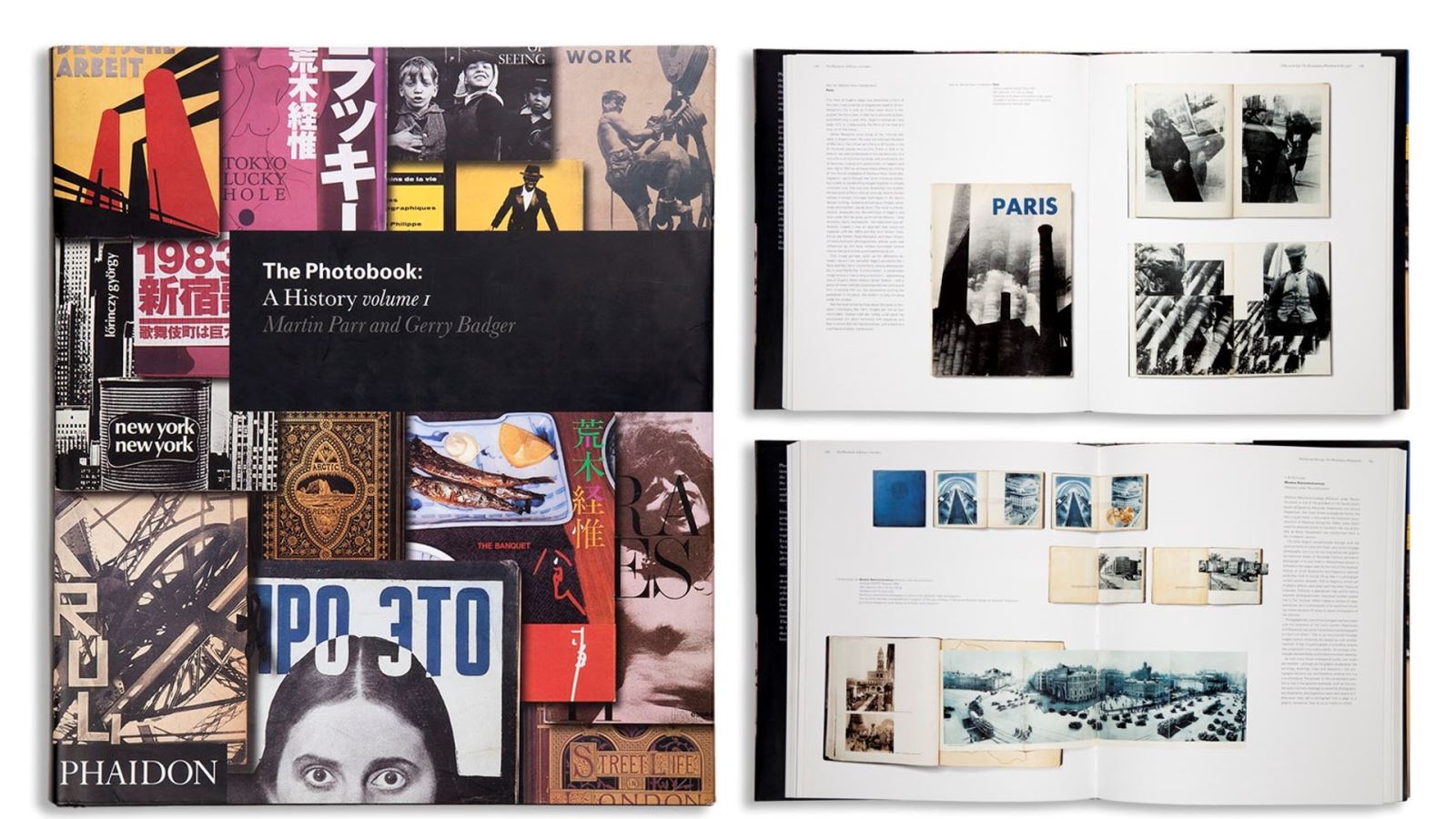 Image: The Photobook: A History Volume 1, published by Phaidon, 2004
The Photobook: A History, Vol 1 (2004), Vol 2 (2009) and Vol 3 (2014)
The three volumes of The Photobook: A History share sources of inspiration from the photographer's viewpoint, showcasing how important the development of the photobook has been in photographic culture.
The series provides an overview of the development of the photobook, from inception in the early nineteenth century, through to the radical Japanese photobooks of the 1960s and 70s, by way of the Modernist and propaganda books of the 1930s and 40s.
Tate Acquisition
Martin Parr accumulated one of the most comprehensive photobook collections in the world, containing over 12,000 books. This was part-gifted to and part-acquired by Tate, with assistance from the Luma Foundation, The Art Fund and Tate's supporters. The acquisition places Tate as an institutional world leader in the representation of photobooks.
A changing selection of the books is incorporated into displays and exhibitions at Tate's galleries, while the collection as a whole is being catalogued and made available to the public through the reading room at Tate Britain.
Martin Parr Foundation
Martin Parr Foundation supports emerging, established and overlooked photographers who have made and continue to make work focussed on Britain and Ireland.
Martin Parr established the Foundation in 2014, which then opened to the public in a dedicated photography space in 2017 at Paintworks, Bristol, comprising a gallery, library, studio and archive centre.
The Foundation preserves a growing collection of significant photographic works and strives to make photography engaging and accessible for all. It does this through an ongoing programme of events and exhibitions, including public talks, book signings, seminars, and most recently, founding the new photobook festival BOP Bristol, which is held in collaboration with The Royal Photographic Society.
On Martin Parr -
GRAYSON PERRY, ARTIST
For me Martin Parr is photography, he is the boss, a walking encyclopedia and a world class artist. Not only has he delighted, teased and educated my eyes for decades with his astounding output, he is also a tireless champion of the medium and its practitioners. I am proud to call him a friend, congratulations mate!
DAVID WALLIAMS, COMEDIAN AND ACTOR
Martin Parr is an instinctive genius. He can find humour and humanity in the most unlikely of places. He is unique among his contemporaries for creating his own aesthetic. What greater praise can an artist be given?
Matt Lucas and I studied Martin's pictures for inspiration in creating comedy characters for Little Britain. I was beyond thrilled when he agreed to take our picture. This he did in barely a minute, and it remains the best picture ever taken taken of us. He knew he had the shot and he was right.
FRANCIS MORRIS, DIRECTOR, TATE MODERN
One of the most important photographers to trace the cultural and political shifts in the U.K. since the 1970s, Martin has been a great friend to Tate for many years. Since 2017, we have been fortunate enough to house the world-class Martin Parr photobook collection, reflecting several decades of research and collecting from across the globe. Now, we are delighted to continue to work with him to further develop this collection and make it available to people in and beyond the U.K. Martin's leadership, through the Martin Parr Foundation, to trace, document and archive the history and practice of modern British photography, is beyond measure. Congratulations, Martin!
BRETT RODGERS, DIRECTOR, THE PHOTOGRAPHERS' GALLERY
Martin is that rare breed of person you don't come across so often these days within photography – a real polymath. In addition to being Britain's most celebrated photographer, Martin occupies multiple roles as curator, writer, book publisher, mentor, collector, writer and advocate of British photography. His passion for the medium has led to him championing photography in all its various forms - from the vernacular and the photobook, to fine art & documentary.
Through his close involvement in so many of our institutions (as Trustee, artist and donor), he has helped shape a wider understanding of the important role photo institutions can and should play – never failing to highlight where they fall short! Now with the creation of his own Foundation, he continues to expand his contribution by ensuring the preservation and dissemination of work by key figures within British documentary photography.
Nowhere has his contribution been more legendary than through his contribution to photography publishing. Beyond the 100+ books on his own work, his assiduous research on the history of the photobook (with his colleague Gerry Badger and others) places his legacy in another league – bringing to attention an area of photography which had previously been neglected.
STEPHEN GILL, PHOTOGRAPHER
When I was 19, my friend Tom (who knew I was interested in photography) suggested I meet his dad's friend. It was a man called Martin who also made pictures.
I called and was kindly invited over. I remember leaving his house practically in tears when he said my pictures of a Bristol dogs home were too cute!
After that time, when I still lived in Bristol or later on when I would visit my parents, I would often call Martin and he would always kindly find the time to meet.
His dry, direct way of speaking was a way of communicating that, at the time, I both liked and found difficult and even unnerving. I am really grateful to Martin for his generosity.
In some ways, I think of him as a kind of John Peel of photography as his mind is so open and his reach so far in terms of knowledge and appetite for individuality and even for images that is so far from his own visual language.
Martin plays a big part in keeping international contemporary photography buoyant.
KEN GRANT, PHOTOGRAPHER
Martin has, understandably, become known for his photographs, an achievement in themselves that's shaped conversations and directions in Photography for decades now. What's less often foregrounded, is his commitment as a teacher and as a supporter of photographers who are lesser known, less lauded and who often turn a corner or find a foothold in their career through his belief in what they do. I benefited from that support and encouragement early on -and so did so many of my contemporaries. This has never faltered across his life in Photography. It's his singular and unwavering hunger for photography that causes this, his energy and excitement when he recognizes something in those who share his love for what photography is and what it can do for us and to us. He's instigated and been at the heart of so much that's developed in British photography and, in turn, he's made the wider world more interested in photography in Britain. For that - and for so much more - we can all be thankful.
PAUL REAS, PHOTOGRAPHER
Being a photographer in the 21st century seems to involve more and more time sitting in front of a screen. Something which makes this process more enjoyable for me is listening to the Desert Island Discs archive, as I spot/scan images. All the guests seem so deserving of the honour of being invited and their choices of music are sometimes surprising but always revealing. I have often thought that Martin Parr would be a worthy "Castaway" as his work has not only defined British culture it has also shaped it. When I heard he had been awarded a CBE I had mixed emotions. I was thrilled that his contributions to photography had finally been acknowledged but wary that that source of recognition had all those uncomfortable imperialistic associations. Would he do a John Lennon and send his "gong" back, I wondered? Regardless, he is so deserving of the acknowledgment. I can think of nobody else who has so selflessly supported the work of people he believes in. Nobody, who has the same tireless enthusiasm and commitment and very few who have redefined the possibilities of documentary in the way that Martin has. Congratulations Martin Parr CBE and Lauren Laverne, if you are reading this, please can you cast him away?
KAVI PUJARA, PHOTOGRAPHER
Martin has become an advocate for photographers of colour in Britain, working to rebalance the diversity of voices in British documentary photography. I owe him a huge debt of thanks for lending his platform, funding and mentoring my work in a supportive and inclusive way —opening doors in my artistic practice and inviting me into the photographic community.
IAN WELDON, PHOTOGRAPHER
Before I understood Martin's work, photography was purely a commercial endeavour. After I understood it, the world around me was never the same again. We (photographers and artists) can all learn something from his tenacity, humour and astute observation.
HANS VAN DE MEER, PHOTOGRAPHER
Martin Parr has given a number of photography careers a boost, amongst them mine. He is known for his obsessive passion in collecting vintage prints and photobooks. What I see behind is a fascination for the miraculous multiplicity of life and the world around us. Martin understands as no other how photography holds up a mirror, often showing us a clear view on a mystery.
VAL WILLIAMS, CURATOR
Martin Parr is not only a great photographer, who has looked at society with a quizzical eye for over five decades, but has also made a huge contribution to photography as an author editor, curator and philanthropist. The Martin Parr Foundation is a remarkably generous and timely initiative, unique in the UK, which presents many opportunities for emerging photographers. Though Martin's achievements are too many to list, I would like to highlight his editorship (with Gerry Badger )of the Photo Book volumes, which have explored hitherto unknown histories and contributed hugely to our knowledge and understanding of photography.
RINKO KAWAUCHI, PHOTOGRAPHER
My relationship with Martin Parr began in 2004 when I was invited to participate in a project he curated for the Arles Photo Festival. I was then also invited to take part in the Brighton Photo Biennial in 2010, curated by Martin. Both were invaluable experiences for me.
The exhibition in Arles was one of the most significant in the history of my career, as there were not many opportunities to exhibit in Europe at that time, and as a young Japanese artist I was given the opportunity to show my work.
It was a wonderful experience to exhibit in Brighton with Alec Soth and Stephen Gill. I also have fond memories of eating seafood with Martin.
When I work with people from overseas, they ask me "How do you think I first heard of you? It's Martin Parr! A lot of people told me "he told me that your work is very good".
Thanks to Martin I now have the opportunity to exhibit in many different countries in Europe, and you are the reason for that. Whenever I see you, you always greet me with your kind and embracing eyes. I sometimes feel that you are like a father to me in Europe.
I look forward to seeing you again.
PAUL SEAWRIGHT, PHOTOGRAPHER
Martin may be recognised universally as a world-leading photographer but I have always known him for his role as an educator and mentor to emerging photographers. He was absolutely instrumental in my learning as a student in the mid 80's and provided opportunities for me and countless others since, through sharing his network, delivering workshops, lectures and his work as a Professor of Photography in Helsinki, Newport and Belfast. His unparalleled and genuine commitment to discovering and promoting innovation in photography and publishing has been as globally impactful as his remarkable photographs.
PAUL SMITH, DESIGNER
A very able photographer with eyes like no other, Martin sees beauty in kitsch and composition in chaos. The most unbelievable observer of public life.
DAVID HURN, PHOTOGRAPHER
Martin Parr is rightfully in that company of photographers that can be labeled great - they influence. But perhaps as important is his generosity with his time in the encouragement of others. He is unrelenting in the promotion of photography among the young. So many must have become photographers because of his example and knowledge.
MAURIZIO CATTELAN, ARTIST
Meeting Martin was like finding a long time friend I didn't know I had, meeting him was like having the South pole meeting the North one.
He uses the camera as a comedy machine shooting a colourful punchline of our society, he's a funny and a dark humorist that transfers his vision of life to photo papers without mercy, a seasoned hunter that knows how to freeze his prey.
DON MCCULLIN, PHOTOGRAPHER
Martin Parr has worked tirelessly for photography. This unique foundation that he has created is a gift and an inspiration to young photographers. He deserves this wonderful recognition.
CLEMENTINE SCHNEIDERMANN, PHOTOGRAPHER
Martin and his Foundation have been an amazing platform for photographers working in the UK. It is only the beginning of a very important and long lasting institution in the British photographic landscape.
ANNA FOX, PHOTOGRAPHER
Martin Parr is not only one of the greatest ever photographers he is also an amazing photography teacher and inspiration. As a student I was in awe of the brilliance of his work, he pushed us to be innovators, to be radical in our approach to image making, to be ambitious and to know how to make work that would be important in the future. The heart felt humour of his early work and the way that he captured the ordinary aspects of life set me up to find ideas that I would not otherwise have found. I still remember the pure shock and joy that I felt when I saw the first few prints from his project The Last Resort, his powerful use of flash lighting and brash colour has always stayed with me and inspired the way I work. Over the years Martin has generously supported and promoted numerous emerging photographers across the globe, his excitement for interesting, frequently quirky, photography is unbounded and he will never let good work go by the wayside.
Related
0 Comments