Outlet: The Travel Magazine
Reach: 3 million
Headline: Hotel Review: Bristol Harbour Hotel
Link: Hotel Review: Bristol Harbour Hotel, UK (thetravelmagazine.net)
Following a recent press trip organised by Visit Bristol, The Travel Magazine wrote a very positive review of Bristol Harbour Hotel, the spa and Harbour Kitchen.
Outlet: The Travel Magazine
Reach: 3 million
Headline: Top 10 things to see and do in Bristol
Link: Top 10 things to see and do in Bristol, UK (thetravelmagazine.net)
Another piece of coverage resulting from The Travel Magazine's press trip to Bristol is this top 10 feature which includes Where the Wall, Everything is Music, Clifton Observatory, SUP Bristol, We the Curious, SS Great Britain, Cargo Cantina at Wapping Wharf, Wild Place Project and Bristol Old Vic Theatre.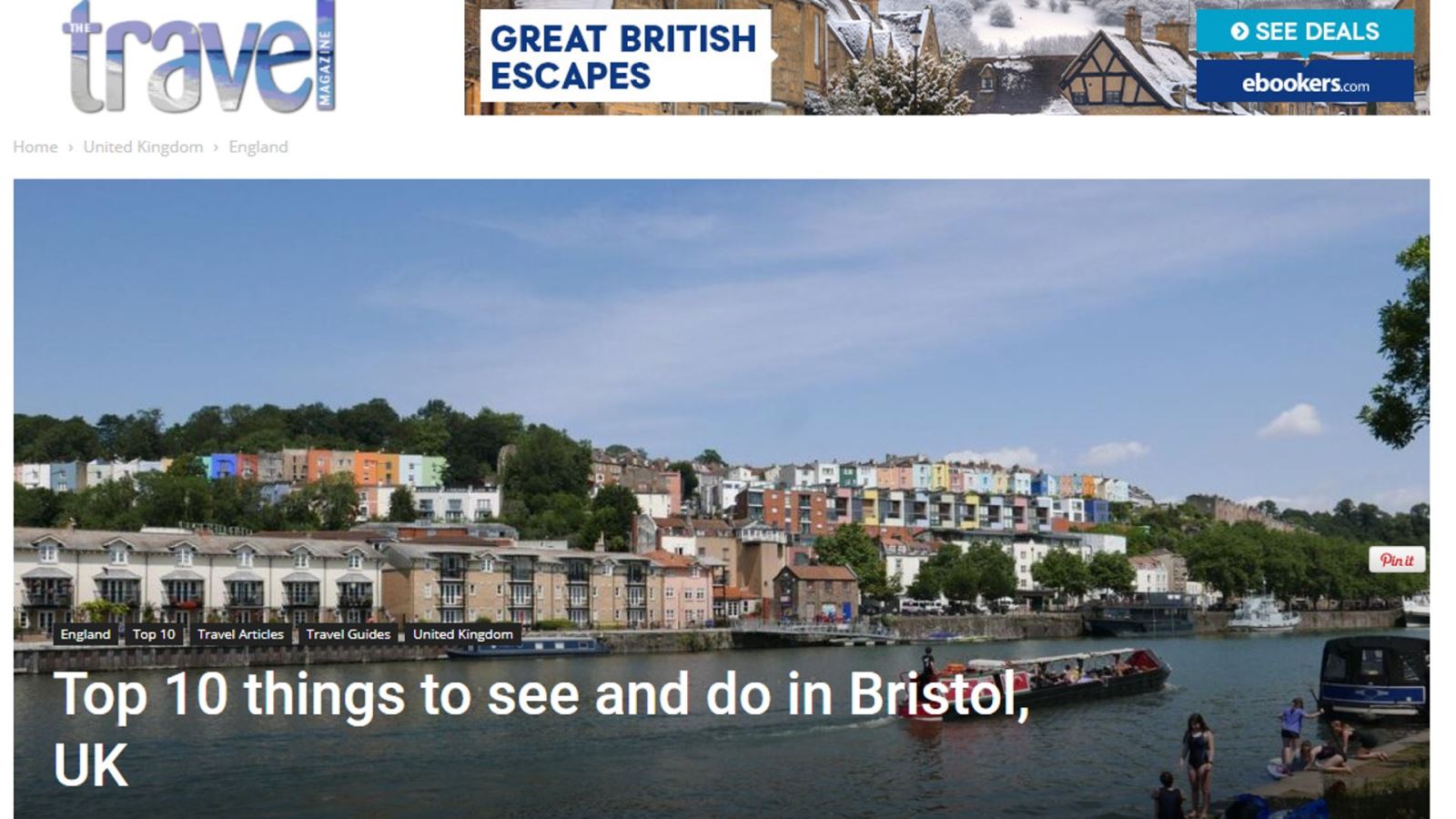 Outlet: Attitude Magazine
Reach: 161k readership
Headline: A city for all
Link: https://www.visitwest.co.uk/dbimgs/Attitude%20Bristol%20feature-compressed.pdf
A press trip was organised by Visit Bristol for Attitude Magazine which resulted in a wonderful feature that encapsulated much of the city's inclusive vibe. The article features M Shed, Wapping Wharf, Seven Lucky Gods, Root, Gambas, SS Great Britain, Clifton Observatory, The Ivy, Harbour Hotel, St Nicholas Market, Watershed, Old Market Assembly, Bristol Pride, Bristol Bear Bar and Where the Wall.
Outlet: Grazia
Reach: 1.3 million
Headline: Bristol
Link: The first and second page of coverage
During lockdown, a journalist from Grazia magazine asked Visit Bristol for recommendations to include in a Bristol feature. We gave numerous suggestions, and the end feature published this summer includes The Lido, Where the Wall Banksy self-guided tour, Iconic Black Britons and Seven Saints of St Pauls, Reason Interiors, Klosterhaus, That Thing, Bristol Pride, Sonny Stores, Woky Ko, Wapping Wharf, Milk Thistle, Clifton Observatory and Number 38.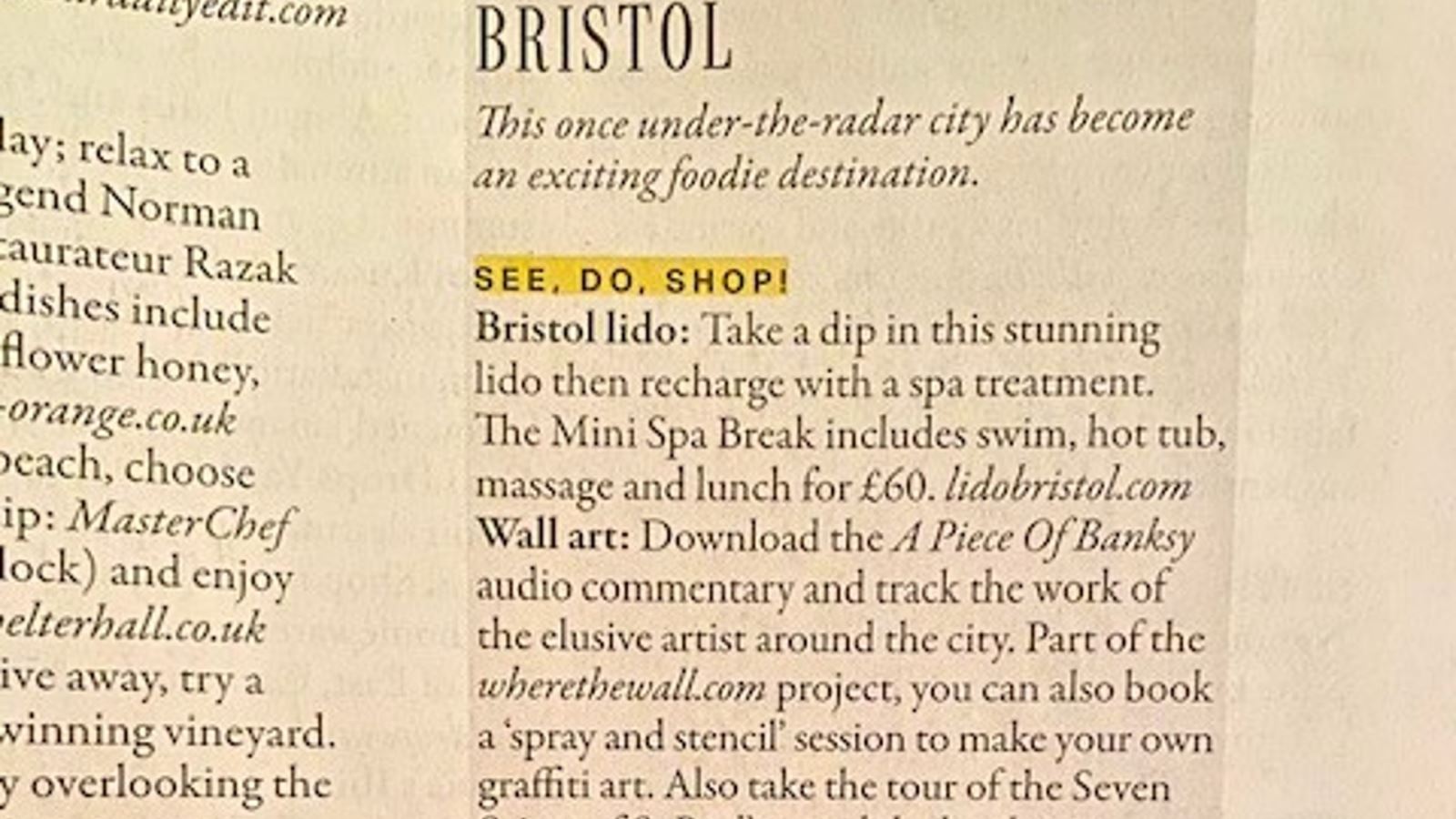 Outlet: The Scotsman
Reach: 138k online reach
Headline: Summer in the arty city
Link: https://www.visitwest.co.uk/dbimgs/Scotsman%20feature.pdf
As a result of another press trip organised by Visit Bristol for The Scotsman, this article includes GWR, The Bristol Hotel, Where the Wall self-guided street art tour, The Coconut Tree, SS Great Britain and M Shed. The article was also shared by Travmedia as one of their stories of the week.
Outlet: Prima Magazine
Reach: 218k readership
Headline: Let's Visit Bristol
Link: https://www.visitwest.co.uk/dbimgs/Prima%20TRAVEL%20City%20Guide%20Bristol.pdf
During lockdown earlier this year, an enquiry came through from a journalist at Prima magazine who was writing a travel article on Bristol. We suggested various places to include for a Bristol staycation feature and the final article includes Heartfelt Vintage tearooms, Pinkmans, SS Great Britain, Clifton Suspension Bridge, Bristol Museum and Art Gallery, RWA, Yuup, Avon Gorge by Hotel du Vin, Milliners' Guild, Guild Gallery, Gloucester Road, various TV and films made in Bristol, Where the Wall self-guided street art tour, Upfest, Wapping Wharf, Woky Ko, Root, Bristol Old Vic Theatre, Littlefrench and Left Handed Giant.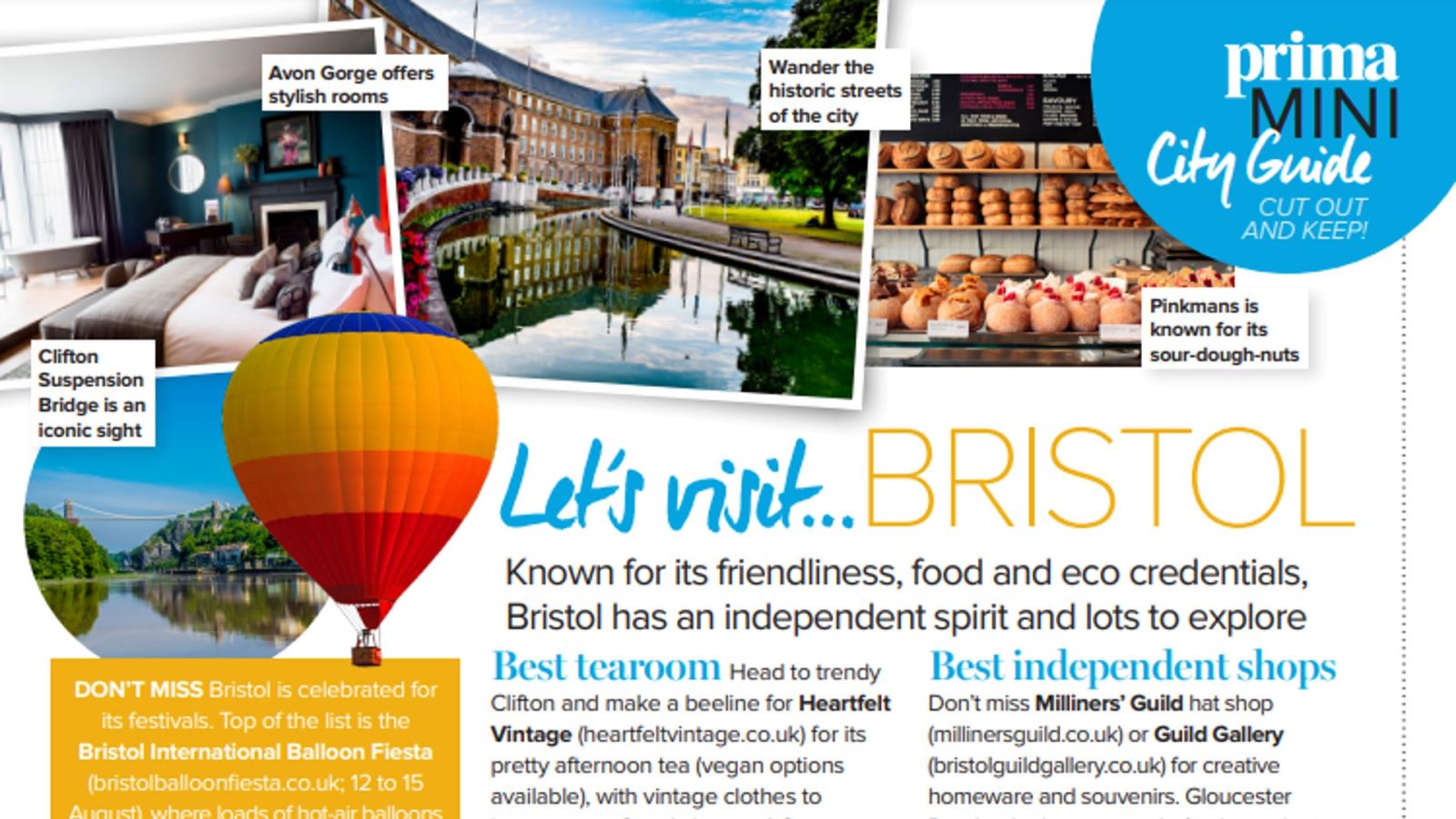 Outlet: Heart FM
Reach:
Headline: News segments
Link: files in folder
Visit Bristol's Marketing Manager Jon Chamberlain was interviewed by Heart FM on the impact of changes to international travel restrictions on the local tourism economy.
Outlet: Love Travelling Blog
Reach: 31k monthly visits
Headline: A weekend in Bristol
Link: Day 1. A weekend in Bristol – first evening walk – Love Travelling Blog
Day 2. Exploring Bristol – Clifton & Banksy – Love Travelling Blog
Day 3. Bristol Harbourside – SS Great Britain & M Shed – Love Travelling Blog
Love Travelling blogger got in touch as they were visiting Bristol, staying at Your Apartment in Clifton and wanted us to organise the rest of their trip. An itinerary wad designed and the resulting coverage includes three blog entries with SS Great Britain, M Shed, Wapping Wharf, St Nicholas Market, Cabot Circus, Bristol Zoo Gardens, Clifton Observatory, Where the Wall self-guided walking tour and Bristol Packet Boat tour.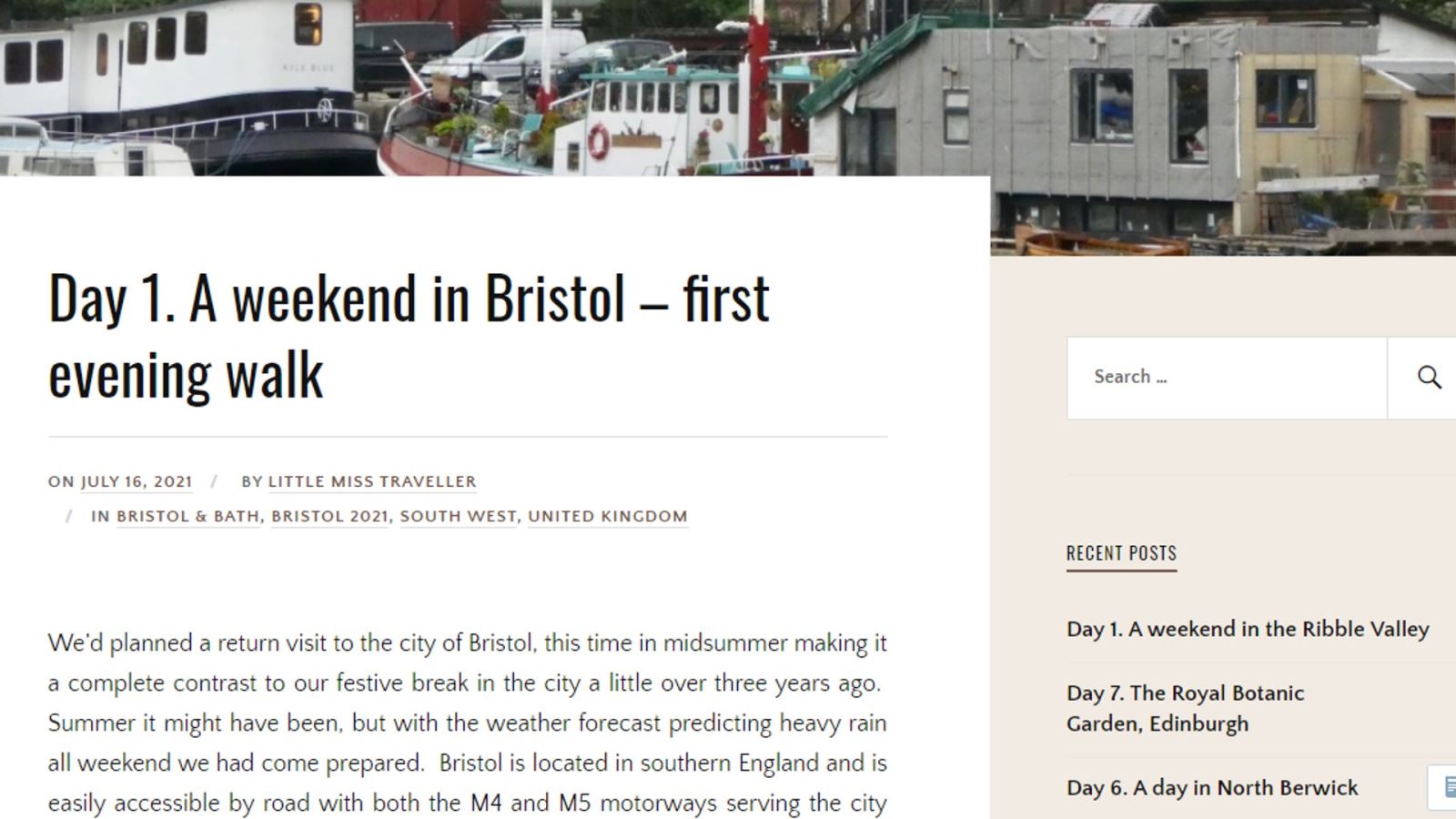 Outlet: Kiddo Adventures
Reach: 30k
Headline: The Coolest Bristol Staycation
Link: https://www.instagram.com/stories/highlights/17887881962315775/?hl=en and https://kiddoadventures.com/2021/08/27/review-the-coolest-bristol-staycation/
Family blogger Natasha got in touch as she and her daughter had planned a trip to Bristol staying at Beech House to see Beauty and the Beast at Bristol Hippodrome. Visit Bristol organised the rest of her trip and the resulting blog and Instagram story includes Aerospace Bristol, Bristol Aquarium, We the Curious, Bristol Zoo Gardens, Mollie's Motel and Diner, Riverstation and The Wave.
Outlet: Cultural Travels
Reach: unknown
Headline: On the streets of Bristol among the graffiti of Banksy
Link: https://www.visitwest.co.uk/dbimgs/Cultural%20travels%20-%20Italian%20travel%20book.pdf
An Italian travel writer got in touch earlier this year requesting images to accompany an article about Banksy in an Italian travel guide book (working title Cultural Travels), due to be printed for the Italian market later this year.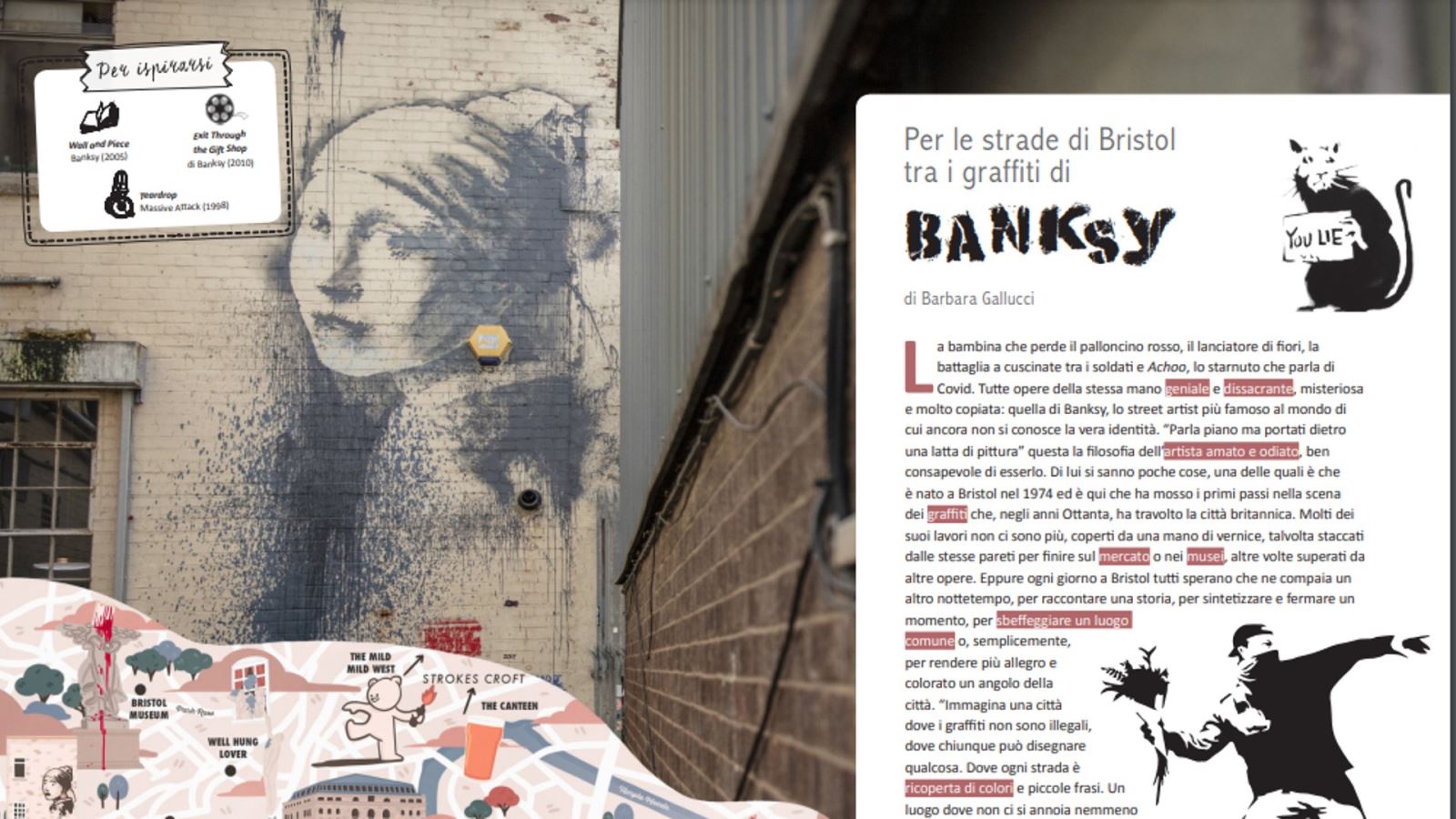 Other coverage
There was lots of coverage for Bristol International Balloon Fiesta Fortnight, including this piece from BBC. Number 38 Clifton was included in this round-up of best city hotel breaks in The Guardian. A guide to Bristol for football tourists was spotted on YouTube and on a blog. A great review of Thornbury Castle's renovations was in Telegraph. Ideal Magazine posted a feature on 5 ideal places to holiday in Southwest of England and included a very positive write-up on Bristol. Data was published in Bristol Post which ranked Bristol above London, Rome, Barcelona and Paris when looking at number of hotel room bookings. Research published by Travel Daily Media shows Bristol is the UK's second best place for a family staycation (after London), when considering family friendly activities, average cost per night, number of affordable places to eat and other factors.
Press trips and enquiries (where coverage is forthcoming)
While August can be a quiet month for press trips, Visit Bristol has hosted a journalist from South Wales Argus, blogger Kiddo Adventures (see coverage above), a writer from British Travel Journal and a representative from Visit Britain in New York. Visit Bristol also wrote a piece for Somerset Life Magazine about staycations in the city, due out in October.
Related
0 Comments