Leading UK bereavement charity, Grief Encounter, is teaming up with Bristol theatre charity, Insane Root Theatre to establish a memory trail.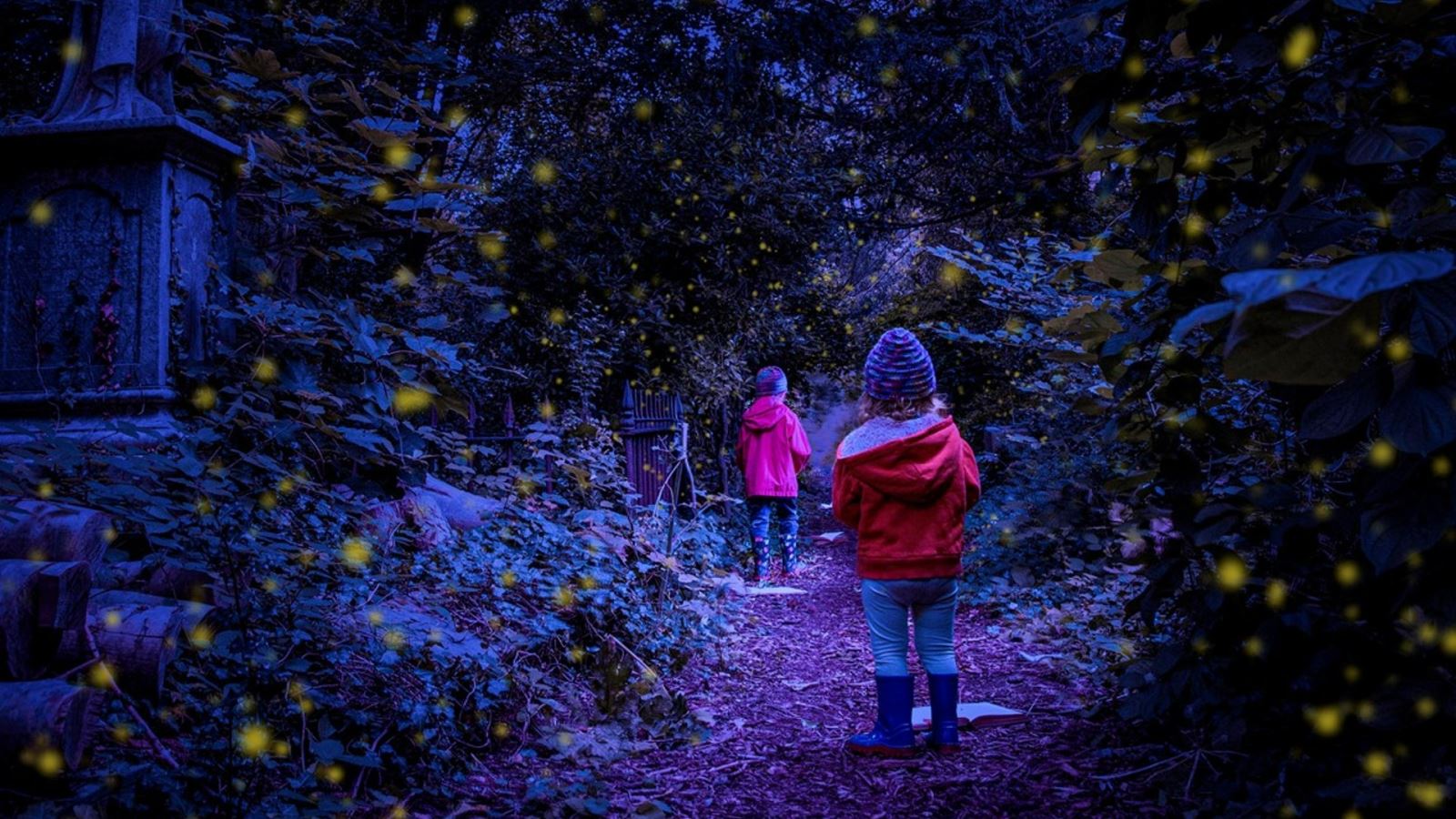 The partnership has been inspired by the successful promenade show Hansel & Gretel which was staged during Christmas 2021 at Arnos Vale Cemetery.
Designed to offer support and a local, interactive resource to children, young people and their families affected by bereavement, the trail will be located at the same place as the original performance at Arnos Vale Cemetery, Bath Road, Bristol. It will offer 'check-points' along the scenic woodland journey, with access to grief specific advice, information and activities that are clinically based, and encourage open conversations. Each point will be accessible via a QR code which will lead to the Grief Encounter website and feature content rich media. The Memory Trail will be free to access and notable illustrator Andy Council has created a map for children to colour in along the way.
Insane Root Theatre CIO is best known for creating unforgettable, site-specific theatre productions in atmospheric spaces. Arnos Vale Cemetery was chosen as the perfect setting for this new and innovative trail as it is steeped in history and explores the themes of death and grief. These same themes were reflected heavily in writer Saikat Ahamed's new version of Hansel and Gretel, the classic fairy-tale.
Partnering with Grief Encounter South West, Justin Palmer, co-founder and producer of Insane Root Theatre comments, "Inclusivity, access and community outreach are important to us. Our Hansel and Gretel production gave us the opportunity to work with Grief Encounter which provides vital bereavement support services to children and young people. As a result, we have created this legacy trail at the Arnos Vale Cemetery in the charities' honour. Legacy is essential to our work, and we are so grateful to Grief Encounter for their support.
Karmen Losey, Grief Encounter South West, said: "We are thrilled to have joined forces with such a considered performance, giving visitors in the local area a stimulating and thoughtful experience that will provide guidance and support for anyone affected by the themes present in the production. Working with Insane Root Theatre has been a wonderful experience. The team has been so keen to provide their guests with the right level of information and be responsible with their offering. Thank you to the charity for including us in this brilliant show."
Established over 17 years ago by Dr Shelley Gilbert MBE, Grief Encounter provides free therapeutic support services to children and young people who have experienced the death of someone close. Grief Encounter South West opened in Bristol in 2018, offering grief and bereavement support to Bristol and the surrounding areas. Their wide range of services include individual one-to-one counselling, group workshops and family remembrance days; Grief Encounter also provide best practice bereavement training for schools, organisations and professionals.
Born out of a chance conversation between two friends in 2014, Insane Root Theatre has become synonymous with intimate, narrative-driven and emotionally engaging theatre productions performed in unique spaces around Bristol. Their first production set the tone: bringing Shakespeare's Macbeth to life in the Redcliffe caves. The production opened to wide acclaim and sold-out shows, with a second run following swiftly the next summer. Since then, they've transformed the cavernous vaults of the Suspension Bridge into the halls of Hades, and transported audiences to the streets of Verona inside the bomb-damaged lido of Eastville Park. They've re-told the life of Prospero in a medieval crypt and reimagined the creature Rumpelstiltskin in a historic chapel.
In the turbulent summer of 2020 Insane Root underwent its greatest transformation to date, from limited company to registered charity (CIO), establishing a Trustee Board of experienced and connected leaders in Bristol. Winter 2021 brought them their largest and most ambitious show so far, Hansel & Gretel at Arnos Vale Cemetery.
Related
0 Comments