A frosty morning on 22 November brought about the first 'swanfall' of 2021 at WWT Slimbridge Wetland Centre.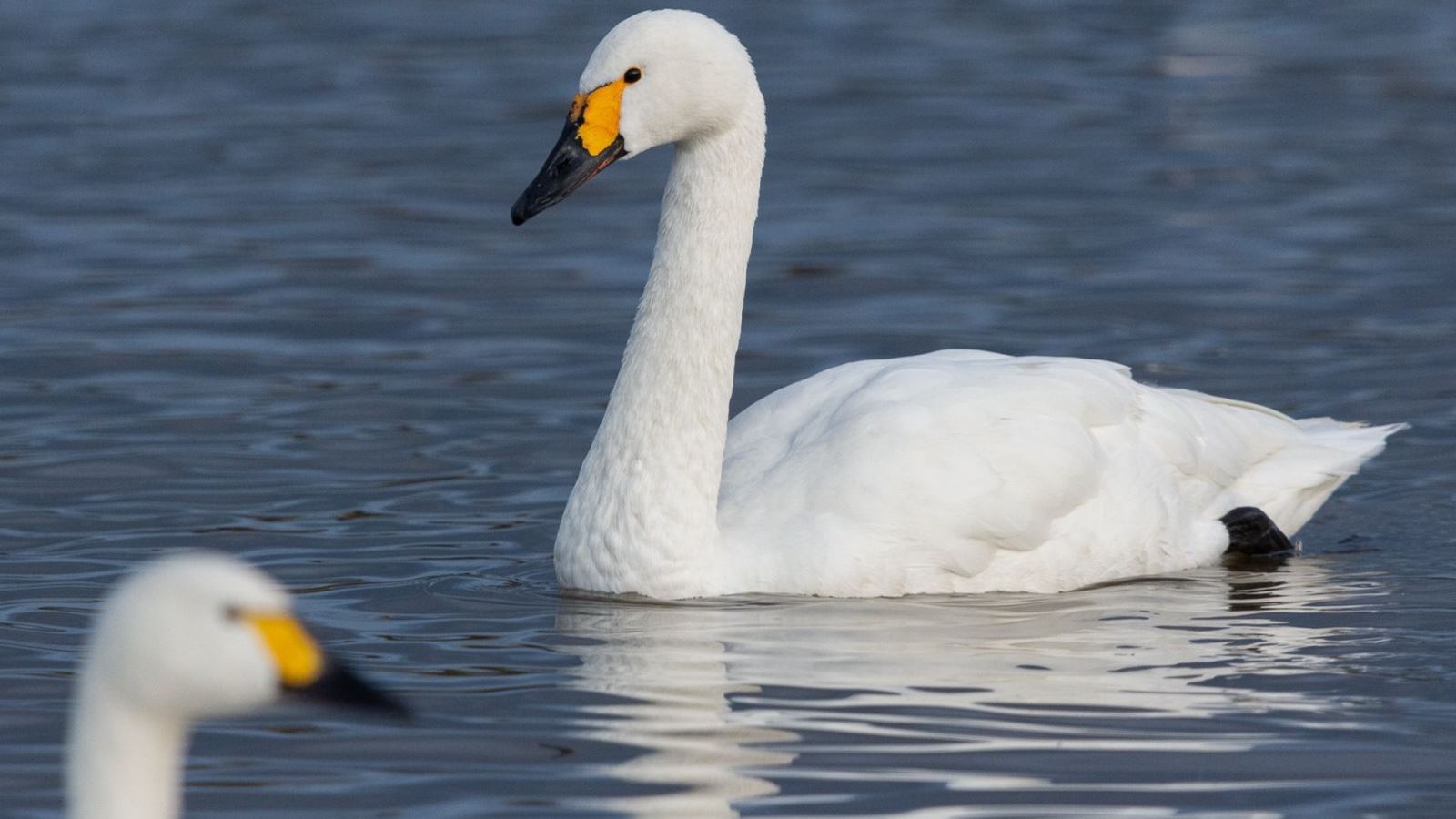 Overnight on 22 November, 21 majestic Bewick's swans arrived at Slimbridge, after completing the final leg of their autumn migration from Arctic Russia. This year's swanfall included 3 families including the pair 'Shoon' and 'Shone', with 5 cygnets – a rare size brood.
A second flurry of swans arrived in the afternoon of 22 November and 4 more arrived on 23 November. This brings the total number of Bewick's swans at Slimbridge to 42, with 14 of them being cygnets. The swanfall was also backed up by the arrival of 57 Russian white-fronted geese at Slimbridge, including 1 pair with 8 goslings - suggesting a possible successful breeding season in the Russian Arctic.
The arrival of the Bewick's is spurred on by the onset of colder weather on the continent, north-easterly winds, and their need for access to ice-free wetlands.
The appearance of so many swans in one go is called a swanfall, and marks the final stage of their epic 3,500km journey from Arctic Russia to the comparatively warmer weather of the UK. This year's swanfall came just over 3 weeks after first arrival 'Allington' touched down at Slimbridge on 30 October.
The swanfall included the arrival of Piquet and Primero, who were the first Bewick's to arrive at Slimbridge last season. Primero has been coming to Slimbridge since December 2012 and recorded on site every winter. Another pair included Winkey and Winker; Winkey is at least 26 years old.
As WWT celebrated its 75th Anniversary this month - on 10 November, the Bewick's swanfall at Slimbridge is a timely reminder to the work of WWT founder, Sir Peter Scott. Scott dedicated much of his time watching and studying Bewick's swans. He was the first person to notice that each bird has a unique bill pattern making it possible to identify individuals. The WWT conservation team who are based at Slimbridge have been using this technique to identify and record individual Bewick's swans for more than 50 years. Over that time, the comings and goings of individuals and family dynasties has led to over 10,000 swans being recorded, one of the longest single species study that has been researched.
Bewick's tend to be long-lived, but usually only two or three cygnets per family make it to their wintering sites in northwest Europe, and less than half of the population makes a breeding attempt each year. Numbers decreased from around 29,000 in 1995 to approximately 20,000 recorded in 2015, and conservationists are still trying to confirm the reasons for the decline. There is no clear picture emerging relating to whether the problem lies with poorer breeding or higher mortality, or indeed both. Possible reasons for the decline could be lower survival rates through illegal hunting and/or collisions with man-made structures such as power lines.
WWT works to support field conservation work for the protection of Bewick's swans and for the vital wetlands they need to survive. WWT supports the Swan Champions initiative out in Arctic Russia. Concerns for the fate of Bewick's swans among local residents has promoted them to start an initiative to unite scientists, hunters and the public in championing swans and their wetland home while reducing the hunting of swans. This network of people includes prominent figures representing indigenous groups, conservation organisations, academic and educational institutions, tourism and agencies and members of the regional government. Activities focus on improving the ability of hunters to recognise protected waterbirds and encouraging them to follow the laws that protect them.
Related
0 Comments