The British Modern Pentathlon team enjoyed a preview of the new Roman Gym at the Roman Baths today. The team, including Olympic Gold medal-winners Joe Choong and Kate French, discovered how Romans used to exercise and keep healthy.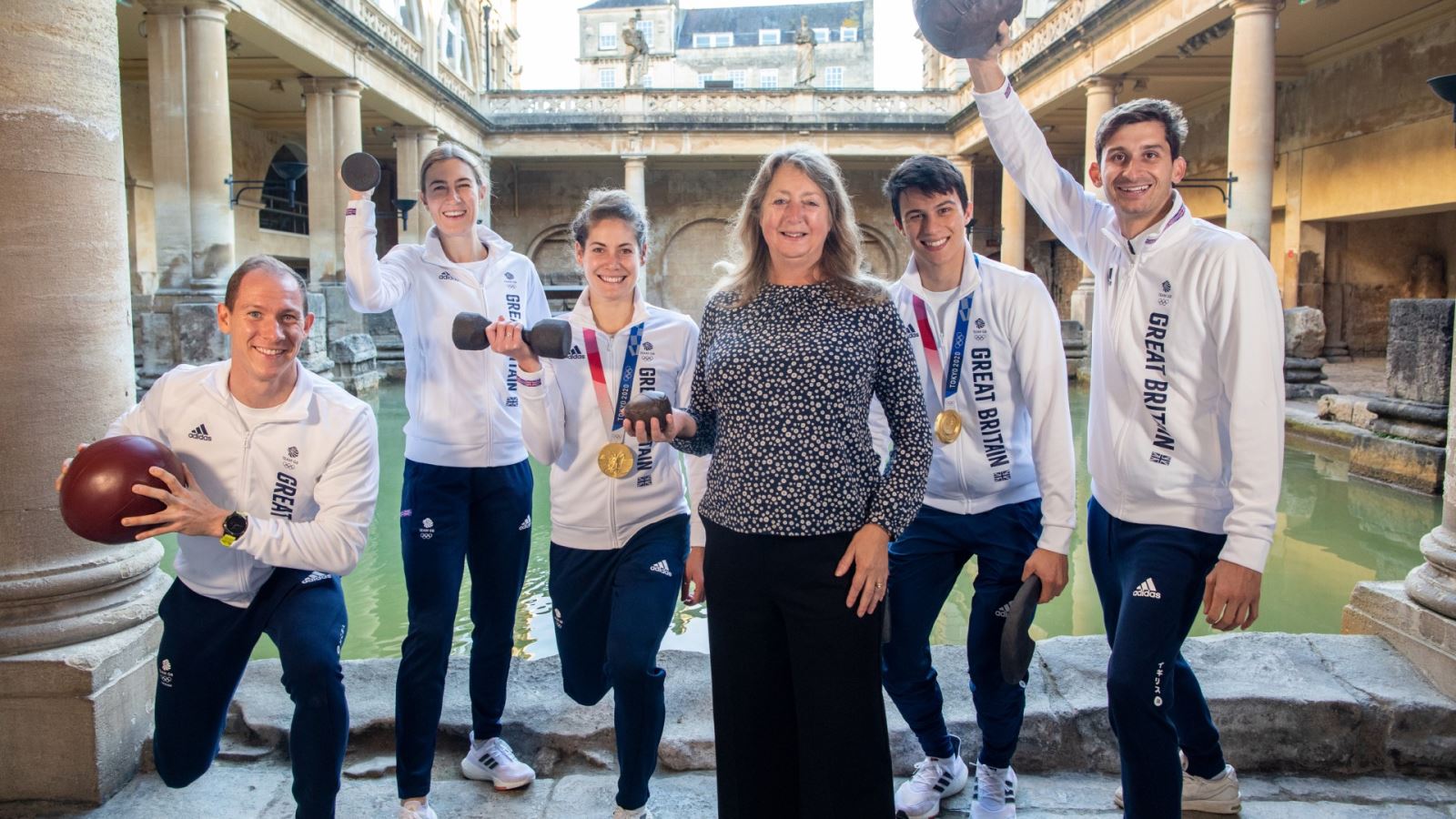 Image: Roman Gym - 4 British Modern Pentathlon Team with Cllr Dine Romero.
The Roman Gym will open to visitors tomorrow (Friday 22 October 2021). Never seen before by the public, the area includes a Roman exercise yard and a laconicum (a type of sauna), which will be brought to life by exciting projections and interpretation.
The Roman Gym is located next to the Great Bath and will be included in the cost of the general admission ticket.
Councillor Dine Romero, Cabinet Member for Children and Young People, Communities and Culture at Bath & North East Somerset Council, said: "We were delighted to welcome the British Modern Pentathlon team to the Roman Gym to find out how their predecessors kept fit and healthy. The Roman Gym is a great new addition to the award-winning Roman Baths experience, and we can't wait to open it to our visitors tomorrow."
British Modern Pentathlete Tom Toolis said: "It was really exciting to be the first to see the new exhibit at the Roman Baths. It's always a joy to attend but it was extra special having the staff show us around the new Roman Gym and learning about how the Romans exercised. Being from a sport with its own historical routes, it's a great crossover of our interests as a team.
"We all live and train in Bath, so we're really lucky to have sites like these right on our doorstep, and after our visit before the Tokyo Olympic Games in the summer, we were thrilled to be invited back today for an exclusive look. I'm already looking forward to bringing my friends and family back here in the future."
In the Roman Gym visitors will be able to:
• Explore the ancient exercise yard where Romans would have worked out and learn about their fitness routines.
• Visit the remains of the laconicum (a Roman sauna or hot room), a circular room which would have been warmed by underfloor heating. Ten minutes in here would have been enough!
• Walk through the remains of one of the most complete Roman doorways in Britain.
• See projections of Romans and the exercises they would have done in the gym, including Trigon (a Roman ball game), Halteres (a type of dumb-bell used in the Roman's version of the long-jump), wrestling and weightlifting.
• Learn about Roman medicine. Roman doctors practiced in Aquae Sulis, the Roman town of Bath. Roman medicine was centred around the belief that there were four humours in the body and to be healthy you needed a proper balance between them. If there was an imbalance, then solutions included herbal remedies or letting of bad blood. For some conditions, surgery was needed and some of the implements found in a Roman surgeon's bag were very similar to instruments still in use today.
The Roman Gym is part of the National Lottery Heritage Fund-supported Archway Project, which will soon see the opening of a new World Heritage Centre celebrating the city's status as a double-nominated World Heritage Site, and a Roman Baths Clore Learning Centre creating exciting new learning opportunities for schools and community groups at the Roman Baths.
www.romanbaths.co.uk
Related
0 Comments