Creating a fair, healthy, and sustainable city is the key focus of Bristol's One City Plan. Launched in January 2019, the One City Plan describes where the city wants to be by 2050 and how city partners will work together to achieve this.
Bristol is the only UK city to be awarded the European Green Capital Award (2015) and the UK's first cycling city. It's also one of the UK's leading cities for sustainable development and home to leading environmental and ethical organisations such as the Soil Association, Triodos Bank and Sustrans.
As an ancient spa town, Bath is a centre for wellness and relaxation and is a UNESCO World Heritage site as a whole. You can find luxury spas and beautiful green spaces throughout the city and have the unique opportunity to bathe in naturally thermal waters at the Thermae Bath. A clean air zone has also been introduced in Bath for the city to enjoy cleaner and healthier air.
Here's an introduction to some top sustainable venues in Bristol, Bath and the surrounding areas and how they're each doing their bit to host greener events.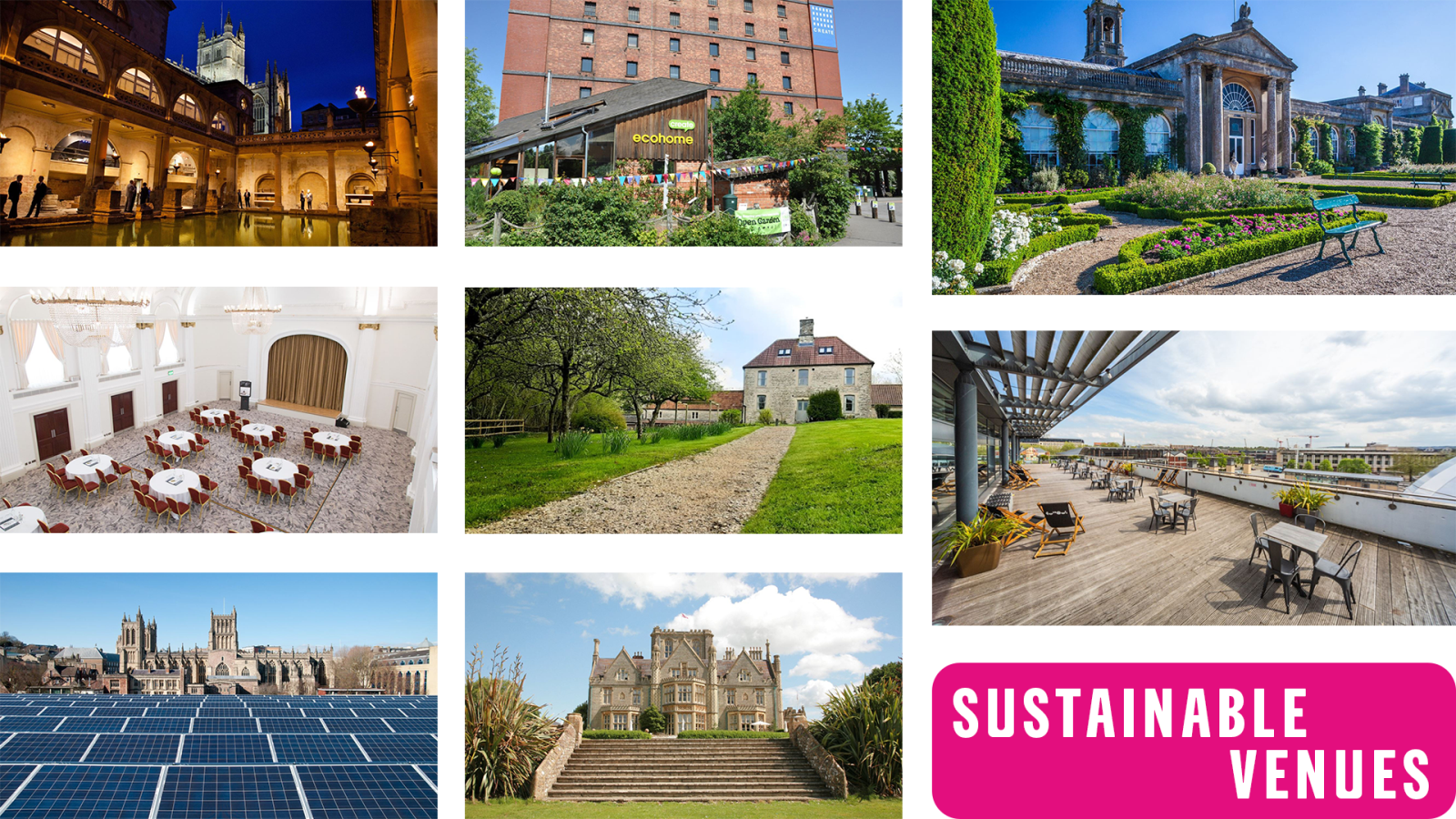 We the Curious is an educational charity, leading science centre and home to the UK's only 3D Planetarium. They're committed to becoming one of the most sustainable science centres in the world, something they published in their Manifesto for change in 2017.
They focus their work on three main areas of activity – sustainable practice, sustainability engagement and sustainability partnerships, or 'Do, Talk, Share'. In 2019, they supported both the city and the University of Bristol by becoming the first science centre in the world to declare a climate emergency. We The Curious facilitate talks, activities and workshops to help drive positive action.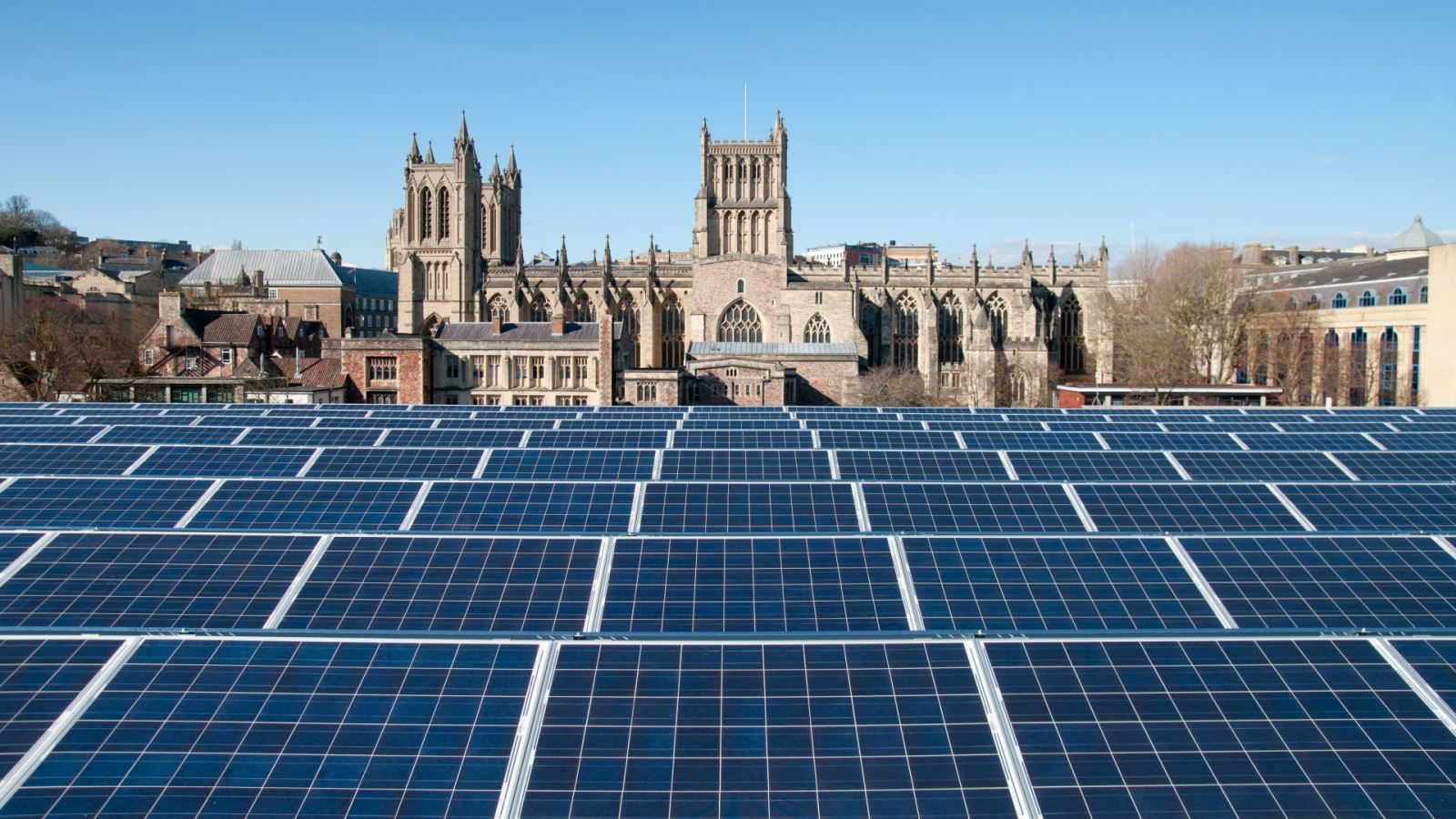 Image - Solar panels on the We The Curious roof
Over the years it has won several awards recognising its commitment to sustainability, including a Gold Green Tourism award and Soil Association Gold in 2019. They are host to a large photovoltaic solar panel array on their roof, the car park was the first in the city to be fitted with LED lights cutting their energy usage by over half and their outside space is home to a hardworking colony of honeybees.
We The Curious has played host to interactive art installations including the Bristol Whales, Tap into Bristol and the Energy Tree on Millennium Square. In 2018 Luke Jerram's Inhale sculpture was installed in the building and artist Anna Higgie worked with University of Bristol's Cabot Institute to create a climate change mural for the exterior of the building. In 2019 artist Jody Thomas installed his 'Cause' artwork, highlighting the impact of plastic in the oceans.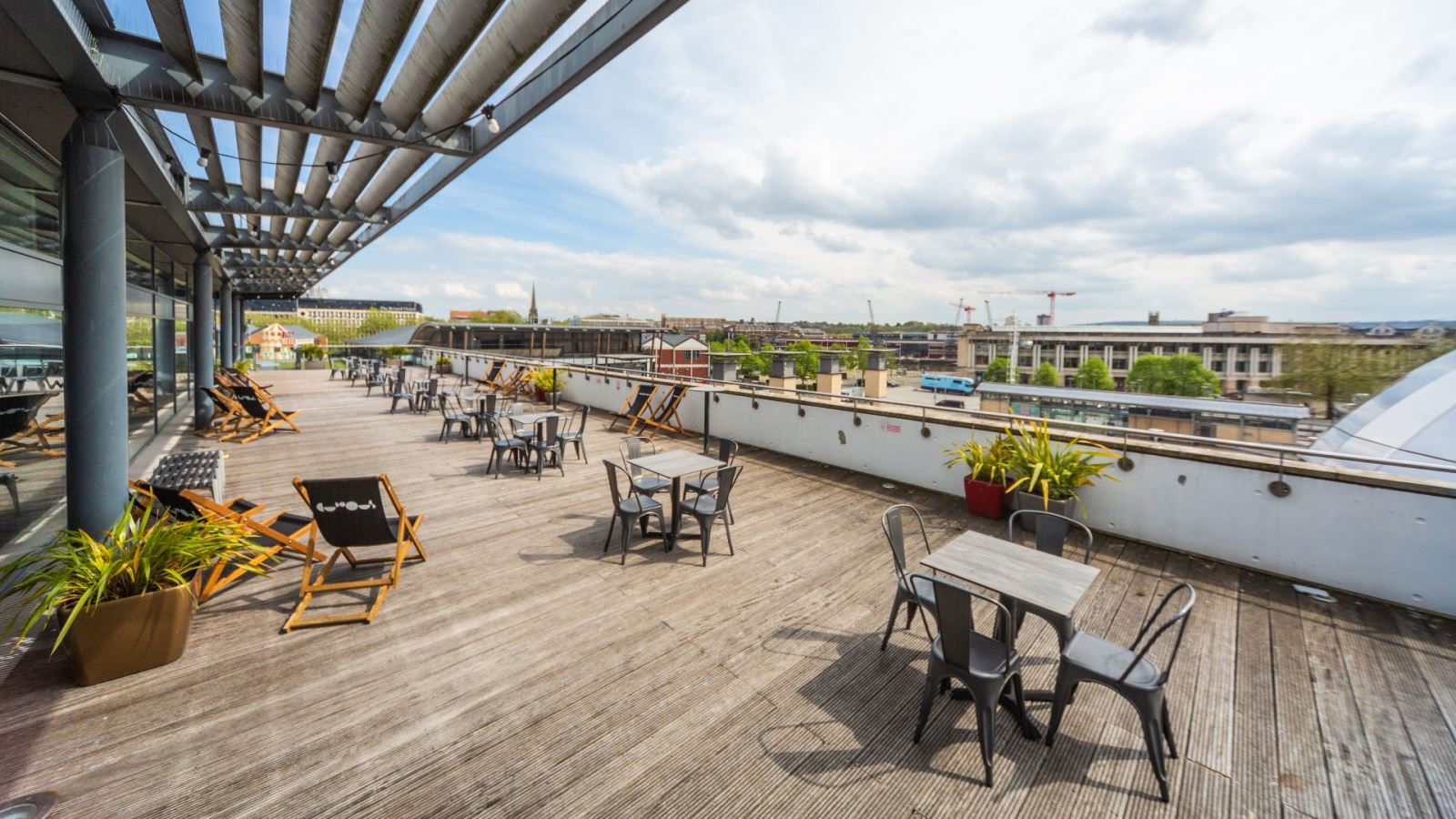 Image - We The Curious event space
Their fantastic events space is located on the top floor of the building, boasting beautiful views of the city. Those looking for an event with a difference can offer their delegates a drinks reception within the interactive exhibitions after hours or a private planetarium show for up to 97 people.
Folly Farm offers peaceful seclusion and the most breath-taking views across Chew Valley Lake and the Mendip Hills, an Area of Outstanding Natural Beauty. With six well-equipped meeting rooms, additional breakout areas and comfortable farmhouse style accommodation, this beautifully restored 18th-century farmhouse offers an inspirational and extremely private venue for day and residential meetings, conferences, teambuilding activities, training days and corporate events.
All paper on site is recycled, including the conference pads. The venue uses solar and biomass heating, wastewater is broken down in their reed bed sewage system and they even harvest rainwater.
The property is owned and managed by Avon Wildlife Trust and all profits are gift-aided back to the Trust to protect local wildlife and inspire and educate people about the importance and benefits of nature.
Image - Folly Farm Centre
As part of Bath and North East Somerset Council, Bath's Historic Venues work hard to reduce waste and consumption as well as sourcing local products wherever possible. Venues include the Roman Baths and Pump Room, Assembly Rooms, Guildhall and the Victoria Art Gallery.
To read about their sustainability policies in detail, click here.
Image - The Roman Baths
The Mercure Bristol Grand Hotel's believe it's their duty to help spread knowledge and promote sustainability within the hotel industry, among both businesses and guests. With this collaborative approach to sustainable innovation in mind, they launched Planet 21 in conjunction with Accor, a platform for sharing knowledge about sustainable development in the hotel industry.
The hotel has also donated to tree-planting scheme Plant for the Planet, funding British woodland and sustainable life to assist the environment, wildlife and reducing their CO2 impact. They've also removed all plastic straws from their facilities and are investigating ways to remove single-use plastics for good.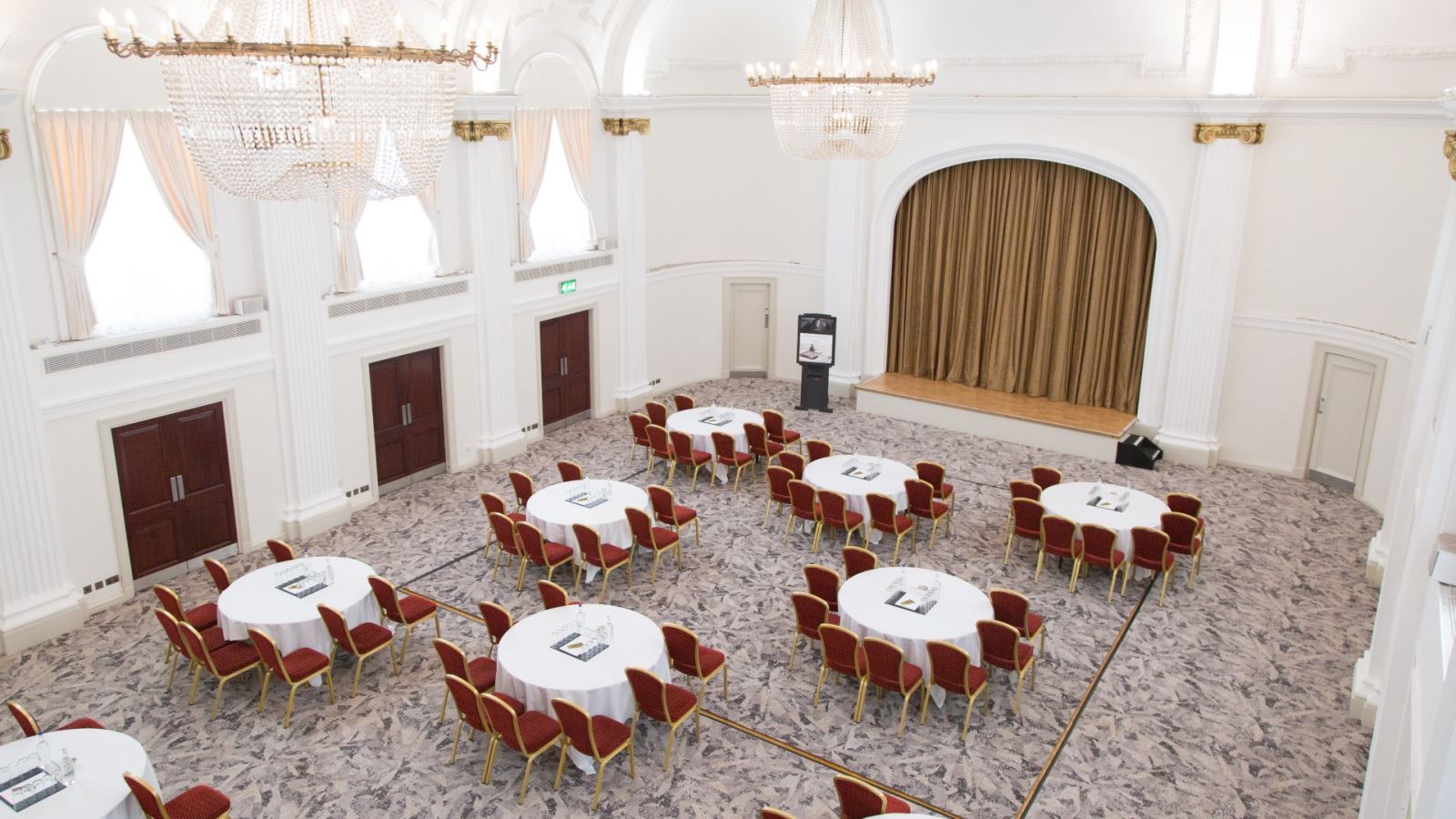 Image - Mercure Bristol Grand Hotel
This is a historic hotel and conference venue in stunning surroundings – a place where a centuries-old story meets an exceptionally modern experience, located just 40 minutes from Bristol. The De Vere brand is incredibly focused on any environmental impact the business has. Tortworth Court has its own 'Green Team' who work to ensure that the property is functioning in a way that is as environmentally friendly as it can be.
Each meeting room at De Vere Tortworth Court benefits from air-conditioning and superfast broadband, which also extends to the great outdoors so that delegates can take advantage of the beautiful surroundings and private arboretum. The venue also provides its guests with smart-space menus which are nutritionist approved for wellness and a healthy body and mind, each curated using locally sourced ingredients.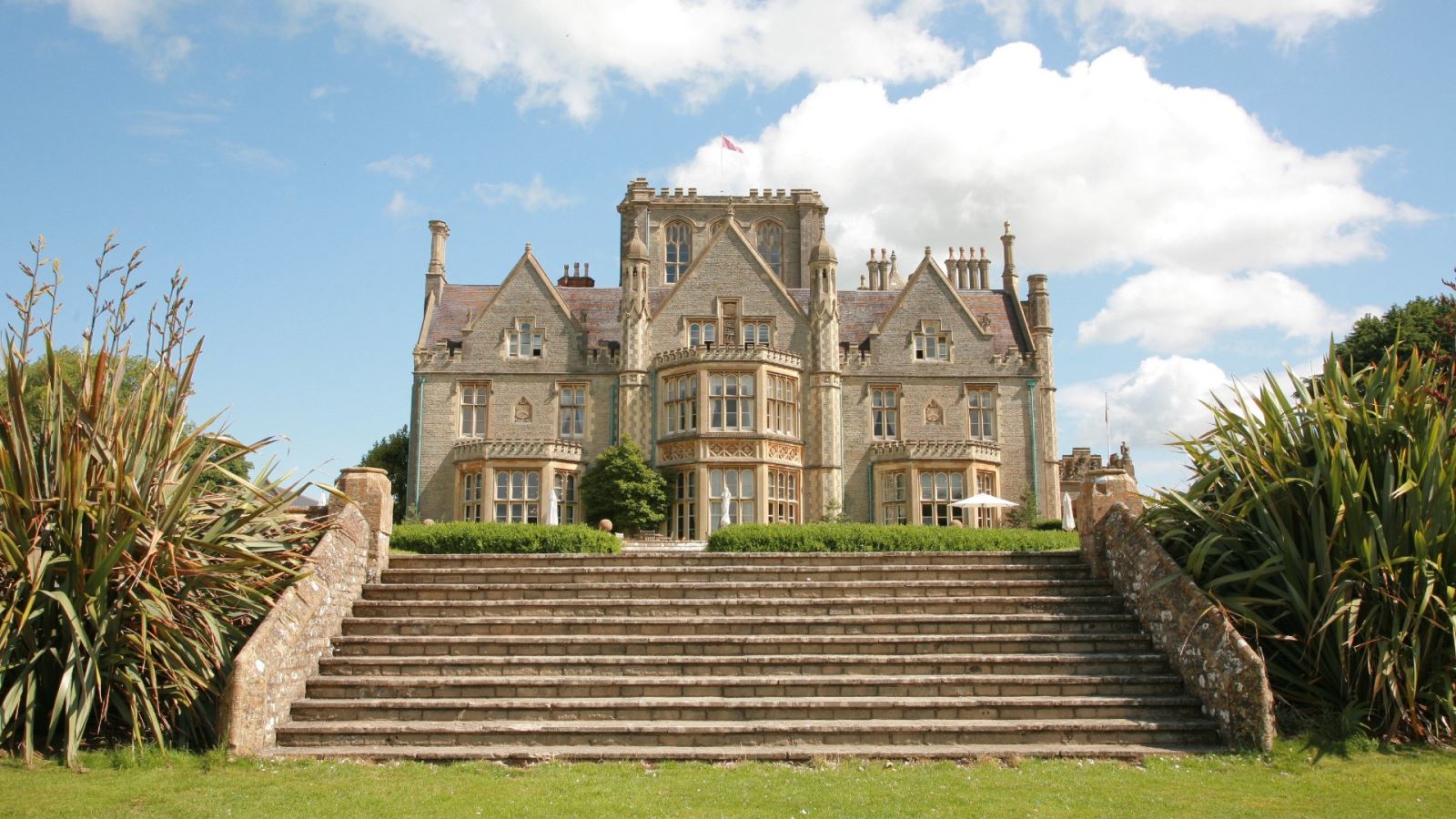 Image - De Vere Tortworth Court
Create Centre is a vibrant environmental centre and conference venue situated in a dramatic waterfront location. The building is one of the remaining red brick 'bonded' warehouses that were originally part of the tobacco industry in the city.
The Centre is a busy non-residential conference and meeting venue as well as hosting a varied programme of public events with a focus on environmental issues and sustainability. It's home to numerous organisations and small businesses and the city council's Green Capital and Sustainability teams.
The demonstration Ecohome is a showcase for sustainable design and living. Create offers a range of flexible spaces for everything from informal gatherings to larger scale conferences, at value-for-money prices. There are also informal spaces with sofas to take a break from meetings as well as an eco-reference library to browse. It benefits from the network of riverside walks and cycle ways on its doorstep too.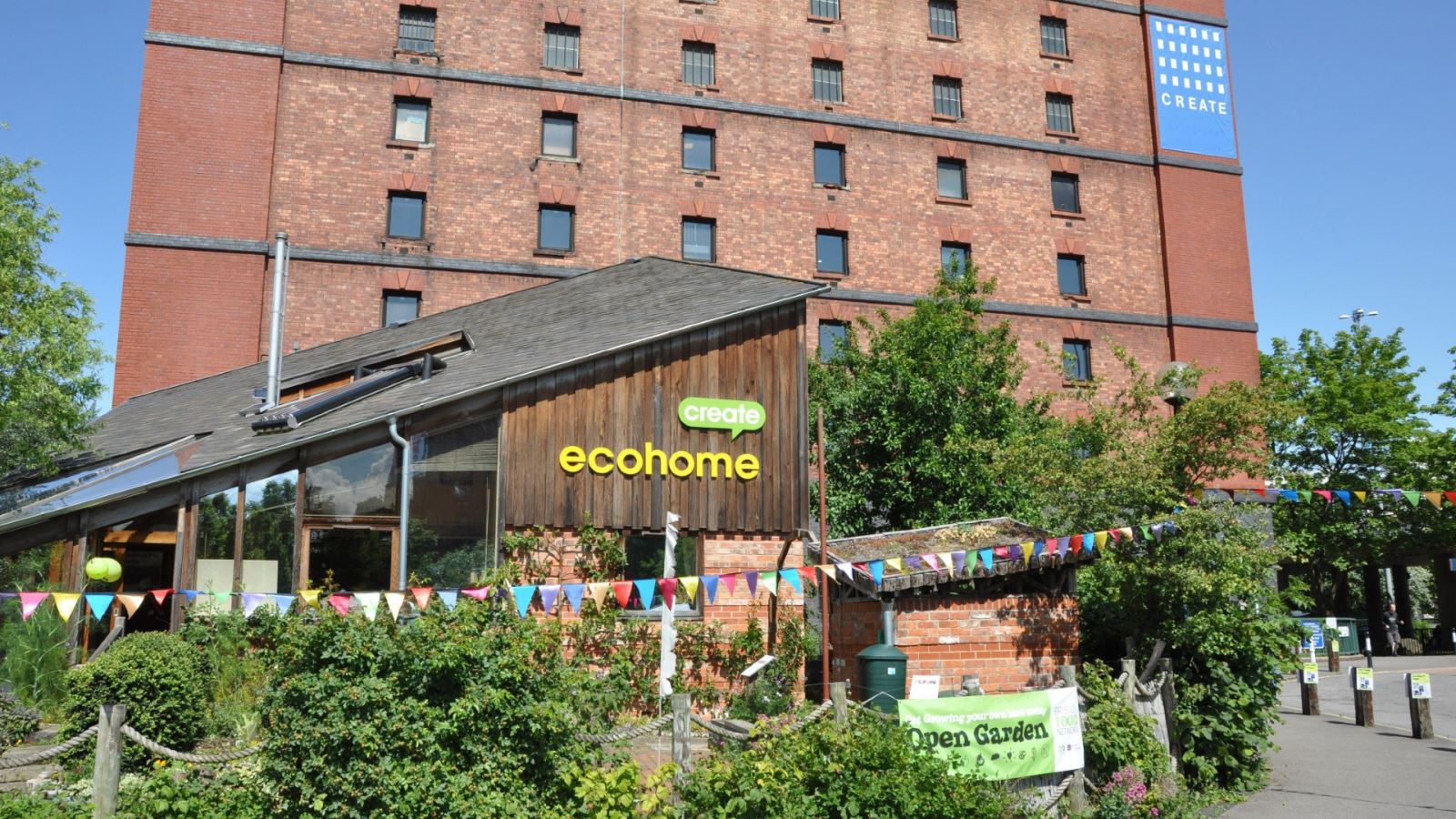 Image - Create Centre
Berwick Lodge has been thinking up ways to significantly reduce their carbon footprint and support local, while maintaining their high quality of service.
After identifying that most emissions stem from their rooms, they've made some eco-friendly switches here. These include introducing locally sourced, natural and luxurious toiletries from Bramley Products; partnering with 'Who Gives a Crap?' toilet paper, who donate 50% of their profits to help improve sanitation in third world countries; and replacing printed menus with QR codes to reduce paper waste.
Out in the gardens, attention is paid to respecting nature. For instance, no pesticides are used, only organic treatments, and wildflowers are planted to encourage butterflies to visit. Soon, they'll even produce their own sustainable honey, as a swarm of bees now lives in a hive on site.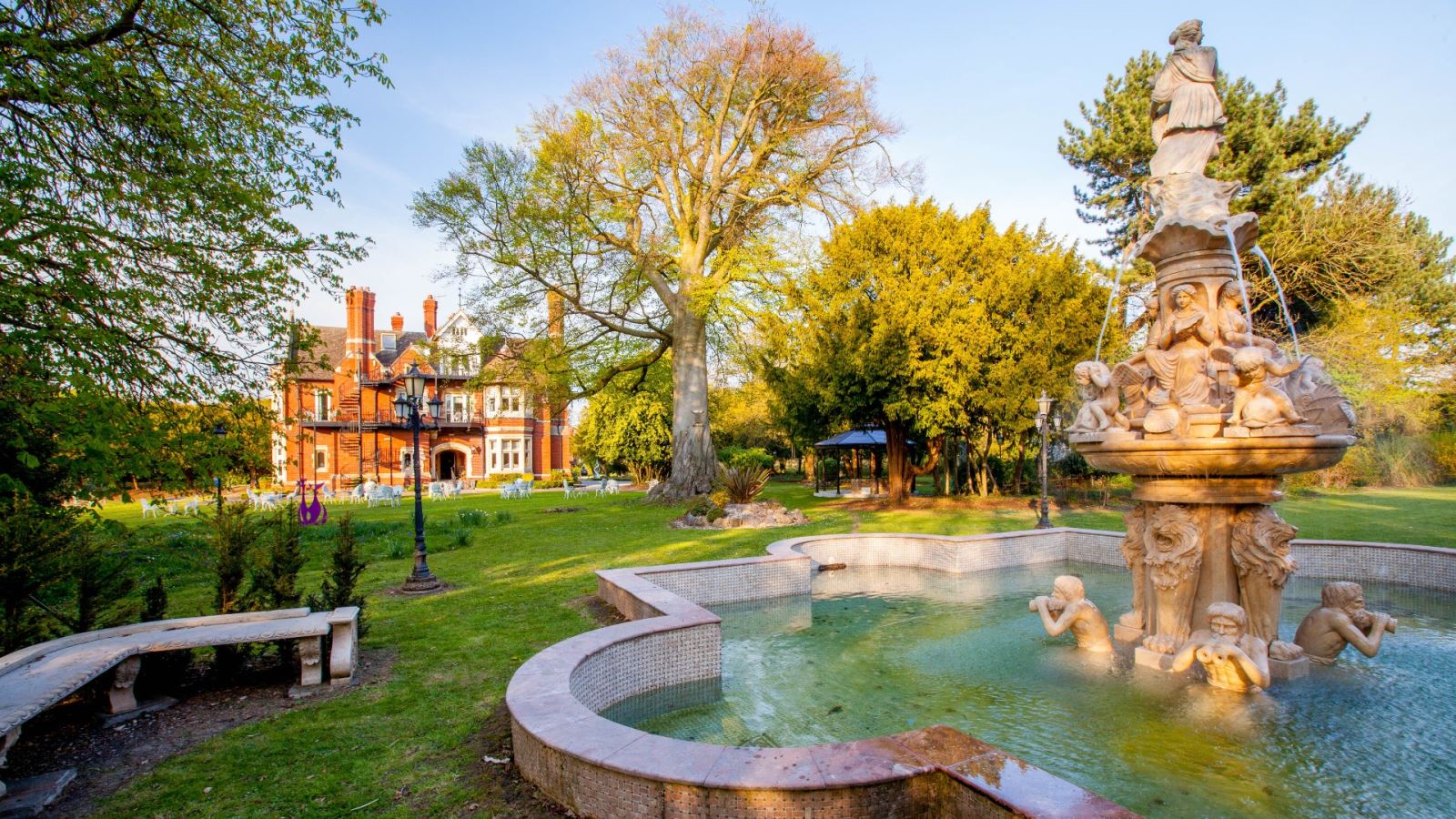 Image - Berwick Lodge
This commitment to improving sustainability continues in the Hattusa Restaurant at Berwick Lodge, where chefs try to use locally sourced and seasonal produce in every meal. Their beef comes from just next door at Berwick Lodge Farm, while herbs are grown in their own kitchen garden. Coffee is ordered from Wogan Coffee in Bristol, the house wine 'Three Choirs' comes from a Gloucestershire vineyard and local gins also feature behind the bar.
Berwick Lodge is also signed up to Too Good To Go, ensuring surplus food ends up getting eaten instead of going to waste.
Bowood Hotel Spa & Golf Resort
Bowood Hotel is constantly reviewing its sustainability and has recently installed additional electric car charging points, energy-saving LED lightbulbs across the resort and have focused on moving away from single-use plastics including using ceramic refillable bathroom dispensers and recyclable glass bottled water.
In the spa they use products by Eminence Organics, who plant a tree for every retail product sold. All their packaging is made from recycled, non-toxic plastic and are packaged in cartons using FSC certified post-consumer recycled material. Both the plastic containers and outer packaging can be further recycled.
Many trees are planted annually on the Bowood estate – in the last 40 years alone the estate management team has planted over one million. Each year 10 oaks are planted, amongst other native species. As it stands today, the arboretum at Bowood House & Gardens has 700 species.
Bowood use homegrown oak for property repairs and 500 tonnes of their own woodchip per year as fuel for our biomass boiler. Excess water from the lakes within the estate is used for watering the gardens and grounds. Across the 2000-acre estate there are areas preserved for wildlife.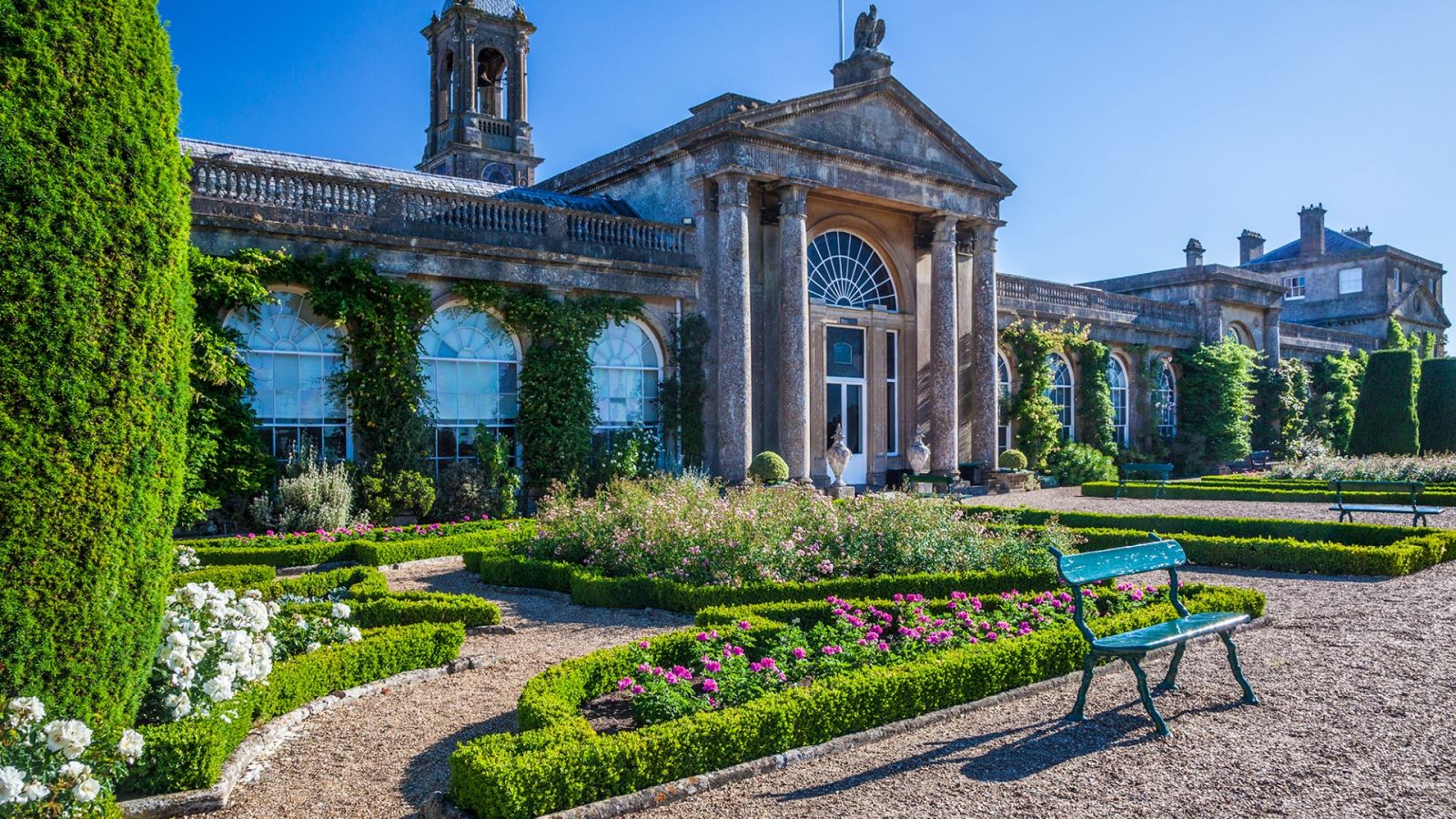 Image - Bowood House & Gardens, credit Anna Stowe
Produce used in the hotel restaurants is sourced from local suppliers wherever possible and they also use many home-grown ingredients from the estate, such as strawberries and wild garlic. They've always believed that the secret to crafting seasonally exceptional cuisine starts by carefully selecting only the freshest, sustainably reared meats, fish, fruit and vegetables. Most of the vegetables used at the hotel come from Bromham, only three miles from Bowood.
They've also recently began stocking wines from a local family-run vineyard, Whitehall Vineyard, situated in Lacock. At the House & Garden's restaurants, over half of the fruit and vegetables used are sourced from Bowood's kitchen garden.
To discuss hosting your event in Bristol, Bath or the surrounding areas contact the Meet Bristol and Bath team on events@meetbristolbath.co.uk or make an enquiry. 
You might also like:
Related
0 Comments