Meet Bristol and Bath's Amelia Jewitt talks to Charly Andrews, Venue Sales Manager at Ashton Gate Stadium, about how the venue has adapted and supported the community through the global Covid-19 pandemic.
Ashton Gate has done a lot over the last year for the local community including becoming one of the seven Super Vaccination centres in the UK. How did you achieve this and what measures have you had to put in place?
Absolutely, and we are so proud and humbled to be able to play our part. We pride ourselves in being at the heart of the community, so being able to help in any way possible really is something we consistently strive for.
Working so closely with the NHS and the Trust has been an eye-opening experience for myself, and all the team. As you can imagine, there's been a lot of work to ensure our space and everything we provide is both suitable and safe. I held the initial site visit with the NHS and Trust teams to assess the feasibility and safety of using our concourse space, and from that meeting onwards, things moved very quickly.
We worked alongside the Trust to make sure the space was set up to run efficiently and worked closely with suppliers to source additional equipment needed. These included Sounds Commercial who provided drapes and partitions, and Andrew Sykes who not only provided the heating but also huge levels of support with the very particular requirements.
We've provided marshals and volunteers to work alongside the NHS team, ensuring the patient's journey is as straight forward and stress-free as possible. And we created video footage to show people what to expect before their arrival too.
What does this mean for corporate clients wanting to book events with you?
The Vaccination Centre uses our South Concourse, which is a large space yes, but is just one of our 36 event spaces on site. So when it comes to live events being back in full swing, we have no concerns about being able to run both simultaneously.
It's important for the vaccine operation to run smoothly and safely away from anything else, so the entrance and exit are completely separate to our other event spaces. The West side of the stadium is home to 18 executive boxes, our Heineken Lounge with pitch views and of course the Lansdown Suite, the largest banqueting space in the South West, all of which have their own entrance entirely separate from the vaccination centre. We cannot wait to be able to properly open our doors for events and are fully equipped to do so safely.
Ashton Gate has achieved some fantastic awards over the last year. Could you tell us about them and how you accomplished getting these awards in such a difficult time?
We have! I think the biggest thing is that we never gave up. We made the decision very early on in the pandemic not to completely close our doors and to always look for an opportunity to help. And that's exactly what we've done, remaining a 'beacon of hope'.
We provided food relief with our partnership with FareShare South West, of course the vaccination centre, held our Drive-in Panto at Christmas for some all important light-relief and have worked closely with all of our clients, keeping in regular contact and remaining flexible. I feel all of this helped us to remain leaders, and resulted in us being awarded the Business Leader Covid-19 Business Hero Award.
We were also awarded double success in the VenueVerdict Awards 2020, named No.1 Sporting Venue and achieving Gold Standard Accreditation. Both of these are a huge credit to the wider team we have at the stadium and the passion everybody has to provide first class service to everyone we come into contact with.
What measures have you put in place to help build client confidence when we can host live business events again?
We launched our Events Safety Pledge, as we knew that easing the uncertainty our clients would surely be feeling was the most important thing. This included a five point plan to give assurance to our clients: Contactless Client Journey, Event Space Adjustments, Safety Communication, Additional Event Options and Our Team. Within this we calculated safe numbers for each event space to accommodate social distancing, all of our staff undertook online training and myself and my team kept in regular contact with our clients throughout.
We remained 'human' throughout the process, understanding when clients weren't comfortable to go ahead, and working with our clients through all of the options ahead. We've also remained flexible with contracts, postponing events, pausing on final payments and offering provisional hold of two dates for reassurance. I really do feel that our flexible and understanding approach helped to save a lot of business and keep clients eager to return to us, whenever that might be.
As restrictions started to lift a little last year and socially distanced small events were allowed back, I also worked closely with our media team to create a video showing what we can achieve here at the stadium. The video shows each of our spaces set up socially distanced, as well as the new lunches our head chef has created. These are served individually boxed with each person's food for throughout the day, therefore limiting the contact we need to have within the room.
Have you put on any interesting events in the last year?
Definitely! 2020 taught us that the world of events is so much broader than it used to be, and the opportunity to get creative has been, I feel, one positive to come out of all of this.
I touched on the Drive-in Panto earlier, but this was something really new and unique that was great fun to work on. We worked alongside Flix, ran the Panto twice a day in the run up to Christmas and just provided people with something fun and light-hearted to do, when there wasn't really much else available within the guidelines. We also ran drive-in movies in the summer with some live entertainment including dance groups and singers which was a lot of fun.
One new event for 2020 was Comedy at the Gate. We kicked it off in the summer with some amazing comedians, including Russell Kane, and seated people on benches with the rule of 6 for food, drinks and live comedy. We've since done another show and have one more ready to go as soon as we are safe and able to do so!
My personal favourite event has been Pitchside Dining, which ran on one day in the summer. Guests could book a table for lunch or dinner and dine right on the pitchside of their favourite team. It was such a unique experience and really gave us the opportunity to use our USP to its full potential! I even managed to arrange a FaceTime with the legend Scotty Murray for our first arrivals of the day. It was really special in the middle of such an unsure time for everyone.
Throughout all of this we've also been able to hold essential training for key workers, small and intimate weddings and wakes when allowed, and dining experiences. We've got all sorts of ideas in the pipeline for future events too, so watch this space.
How has your role as Venue Sales Manager changed over the last year?
Well for starters, the job title is different! 2020 taught us all so much, and for the events industry it was hugely that 'meetings and events' just didn't quite cover everything that was involved. It has been such a journey and I have learnt so much about both the industry and myself, and found that resilience truly can come from the darkest place, for which I am incredibly proud.
Every day is always different in this industry, but the last year really has proved that! The enquiries we now get in are so unique and fascinating and have certainly kept me on my toes. I've helped create surgeon and GP offices in our executive boxes, worked with filming companies to transform our space into a studio, helped someone find a way to attempt a Guinness World Record on site, organised various 'light ups' for the stadium to support different causes, helped arrange a proposal and so much more.
It's been amazing to be able to remain that beacon of hope and to play even a small part in helping somebody during all of this. It's why I do what I do, to make somebody's day, and the various ways that we've been able to do that over the last year has been different but amazing. I truly believe just being kind and being yourself can get you so far, and this last year has proved that. I respond to every enquiry with honesty and kindness and have a real conversation with the people to understand their needs and help them achieve their vision, even if it might not be able to happen as yet.
Naturally, we've had team members on furlough throughout, meaning that we've all chipped in with different departments and got involved with new areas, which has created such a brilliant bond between us. I know a lot more about so many departments than I used to, that's for sure.
I talk about it a lot, but my biggest achievement during this has to be the vaccination site. I am so beyond proud to have had anything at all to do with it. The NHS truly are incredible. I even met Boris Johnson during his visit, something I don't think I would have ever had the opportunity for without all of this!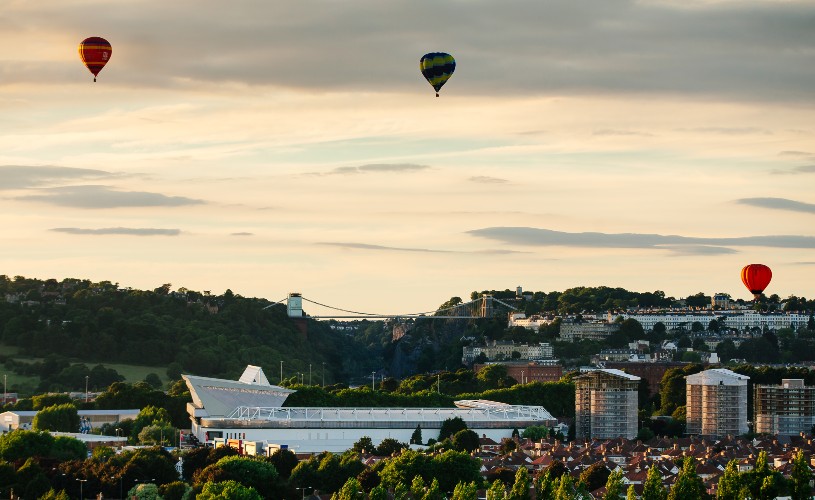 Image - Ashton Gate Stadium
What can we expect from Ashton Gate in 2021 and the future?
There's always some sort of surprise in the pipeline from Ashton Gate isn't there?! I think it's safe to say that when live events can come back, we'll be right there in the forefront, leading the way and enjoying ourselves. We've obviously got plans for concerts, with some really exciting possibilities on that front, and we've got some new ideas coming up that follow on from the new events we ran last year.
Obviously there's still such apprehension around clients booking events. But we're starting to see some confidence come back and the enquiry levels are starting to increase for I would say Autumn 2021 onwards. We know how eager our clients are, so we know we'll be back bigger and better than ever as soon as it's safe.
Of course, we have so many exciting plans in place for our Sporting Quarter as well, which is so wonderful to be a part of. It will bring our Flyers home and give them a place to play, but will also provide an incredible opportunity for events and the possibilities that this gives us are genuinely endless. It won't be long before we have some more news on these developments, I'm sure.
You might also like:
Related
0 Comments